I was lucky enough to meet Jan Wilczur, one of the artists who illustrated Craig Robson's Birds of South-east Asia, at the 2007 British Birdwatching Fair. Still in mind that it was voted the most wanted bird in Thailand I was immediately struck by Jan's fantastic painting of Gurney's Pitta which, he told me, was painted from field sketches made at Khao Nor Chu Chi after spending many hours on U-trail in search of the species.
Obviously, for such an acomplished artist, Jan had many other wonderful paintings of birds for sale, including a number of other Thai species and a few of the original plates from Birds of South-east Asia (I loved the hornbill plate). After discussing Jan's artwork he showed me the high quality giclee prints that are also available. The quality of these prints is such that they are virtually indistinguishable from the original paintings.
Fortunately, Jan has made some of these prints available for sale here: Gurney's Pitta, Banded Pitta and Rufous-collared Kingfisher - these are reproduced below and are available for £35 each plus £5 postage and packaging within the UK (p&p to other countries available on request). These beautiful prints make wonderful gifts, either for others or for oneself.
The originals of both the Pittas are also available for sale as are the original plates from Birds of South-east Asia for hornbills and minivets & cuckooshrikes - prices available on request. Jan is also able to take commissions.
If you wish to purchase some of Jan's fabulous artwork please contact me: nickupton@thaibirding.com
Jan Wilczur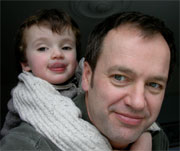 I began sketching birds shortly after I started watching them. Then over several years I contributed numerous black and white illustrations to bird reports, magazines, tour company brochures and books.
It was not until I was commissioned to do my first major colour work that I gave up my proper job to become a full- time illustrator. Since then I have contributed to several books including Handbook of the Birds of the World; Birds of the Western Palaearctic, concise edition; Birds of South-east Asia; Birds of the Indian Subcontinent and Thrushes.
Recently I have begun to produce paintings from the mass of field sketches I have accumulated over the years from both Great Britain and abroad.