Ao Phang Nga National Park
(Updated 09/04/17)
Introduction
Ao Phang Nga National Park, in Phang Nga province, covers an area of 400 square kilometres of mangrove forest, limestone karst, islands and open sea; it has been a national park since 1981. The huge limestone formations rising out of the sea and mangroves create some stunning scenery which attracts tourists who typically view the area in locally hired boats. However, it is the mangrove forest which is home to a good number of habitat specific bird species and the national park protects the largest remaining area of mangrove forest in Thailand. Unfortunately, not all the mangroves in this area fall within the national park and there is wide-scale convertion of back-mangoves into shrimp farms, threatening the wildlife and water quality.

Park Headquarters is easily visited but gives limited access to the national park, although bird abundance is such that most of the key mangrove species can be found by walking around the HQ and nearby roads, although to really enjoy the national park it would be necessary to take a boat trip from the nearby pier.

Chestnut-bellied Malkoha
(Photo by Nick Upton)
Ao Phang Nga is a great spot to spend a morning birding or if you are with non-birders hiring a boat an exploring the beautiful scenery would be a nice option too which would no doubt result in plenty of bird sightings.
Birding Highlights
As one may expect, all the highlight species to be found at Ao Phang Nga are those associated with mangrove forest. Mangrove Pitta is a bird which can be found here at most times of the year with some patience but during the breeding season it becomes really vocal and easy to locate; this is definitely one of the easier Pittas to get to grips with and no boat trip is needed to find it here.

Kingfishers are well-represented at this location and it is in the heartland of the world range of Brown-winged Kingfisher, a species restricted to the Andaman coast. This impressive Kingfisher likes to hang around the larger creeks and rivers within the mangroves and can usually be heard before it is seen; its large size and bright colour can make it fairly easy to spot as it sits on a branch overhanging a channel. Ruddy Kingfisher is another highlight here although it is not particularly abundant and quite shy. Collared, Banded, Common and Black-capped Kingfishers are other colourful treats for birders to look for.

Ashy Tailorbird
(Photo by Nick Upton)
Other scarce lowland species can be found at this site too; Chestnut-bellied Malkoha, White-chested Babbler and perhaps even Mangrove Blue Flycatcher await patient birders. This area of mangroves is quite rich in birds and surprises could turn up particularly when birds are migrating.

A checklist of the birds for this location can be found here - Ao Phang Nga
Bird Watching Trips:
If you need help organizing a bird watching trip to Thailand, take a look at the suggested itineraries for ideas on creating a tailor-made trip and contact me for advice: Thailand bird tours.
Travel Information
Use the interactive map below to plan your route to Ao Phang Nga National Park HQ. The blue line shows the route from nearby Phang Nga (B), Krabi (C) and Phuket Airport (D) to Ao Phang Nga (A).
Ao Phang Nga National Park headquarters is easy to find and to get to for anyone with their own transport. Simply drive along the main Phang Nga-Phuket Highway (Highway 4) and there are signposts to the park at a set of traffic lights about 3 kilometres west of the town of Phang Nga. If coming from the direction of Phuket this turn off will be before reaching Phang Nga whereas if driving from the direction of Krabi the turn off is a few kilometres after Phang Nga. Either way the turning is clearly signposted in English. The national park is just a few kilometres down the minor road with the entrance clearly signposted on the left. Travel time is around 1.5 hours from Krabi and just under 1 hour from Phuket; less than 15 minutes from the town of Phang Nga.

For those without their own transport there are plenty of buses from nearby provincial capitals to Phang Nga and there are regular long-distance buses from Bangkok's southern bus terminal. From Phang Nga town there will be songthaews to Tha Don a few hundred metres past the entrance to the HQ. Alternatively any bus going along highway 4 can stop at the traffic lights at the turning for the national park and the walk is about 2-3kms.
Finding Birds
Birds are more abundant at Ao Phang Nga than most other mangrove sites in Thailand. Access is the big problem but there are a few spots which birders can get into that regularly turn up some exciting birds.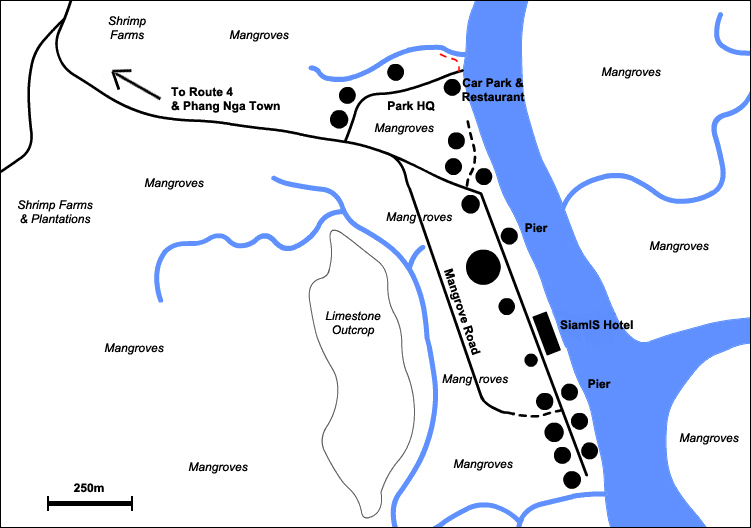 Park HQ: A short stretch of road serving national park staff accommodation finishes at a car park and a restaurant on the river, giving access to a small area of mangroves where a surprising number of birds can be found. In the early morning and late afternoon the bank of the river is a good place to listen for and spot Brown-winged Kingfisher which will sit on exposed branches as it hunts for fish. In the open area next to the restaurant both Pacific and Rufous-bellied Swallows can usually be seen either overhead or hawking along the river and Blue Rockthrush of the resident madoci subspecies can often be seen perched on a roof of one of the buildings here.

At the riverside there is a sign for a nature trail which proceeds through the mangroves in the form of a concrete walkway. Unfortunately this has not been maintained and after only around 100 metres a bridge over a creek has collapsed and birders can go no further. However, it is still worth going along here as species like Ashy Tailorbird, Black-and-red Broadbill, Brown-winged Kingfisher and Streak-breasted Woodpecker can turn up anywhere in the HQ area.

Mangrove Pitta

Rufous-bellied Swallow

Streak-breasted Woodpecker

Black-and-red Broadbill
(Photos by Nick Upton)

Walking around the HQ area in the early morning can reveal a good amount of bird activity and in the dry season migrant species such as Black-naped Oriole, Arctic Warbler and Pale-legged Leaf Warbler are likely while resident species include Olive-winged Bulbul, Common Flameback, Mangrove Pitta and all the afore-mentioned species; I have even seen Little Bronze Cuckoo in this area. This would be a good place to look for migrants such as Yellow-rumped Flycatcher in March-May.

Mangrove Road: This stretch of road runs parallel to the much busier riverside road and gives birders access to almost 1 kilometre of mature mangroves. Visibility through the forest here is good making this an excellent place to look for calling Mangrove Pittas. It is best to walk up and down this stretch of road slowly which might also reveal Ruddy Kingfisher; it is regular here but shy and difficult to see well. Another species which is rare in Thailand and inhabits this patch of mangroves is White-chested Babbler which I have seen feeding young here and heard calling on every visit I have made. Other interesting birds along here include Chestnut-bellied Malkoha (in bad light the chestnut belly is not always obvious), Ashy Tailorbird, Brown-winged Kingfisher, Mangrove Whistler and Black-and-red Broadbill.
Phang Nga Bay Resort: Just before dusk a group of around 60-70 Asian Glossy Starlings come to roost on the radio mast on top of the hotel, feeding and bathing in puddles before they sleep, making this an easy place to get close to this bird. In the early mornings and late afternoons Rufous-bellied Swallows can also be seen perched on wires along the road here and the casuarina trees hold other common birds such as Olive-backed Sunbird, Olive-winged Bulbul, Common Tailorbird and others.

From the riverside piers here it is also possible to spot shorebirds and egrets at low tide; Common Sandpiper, Pacific Reef Egret, Little Egret, Chinese and Javan Pond Herons are regular - the latter two species come into breeding plumage around the end of March. Pacific Swallow can be seen perched on boats and the pier while this is a nice spot to look for raptors of which Brahminy Kite is by far the commonest. Those wishing to take a boat trip into the mangroves and to view the scenery can negotiate for one here.
Facilities

At the national park HQ there is a restaurant selling cooked meals from simple dishes to more elaborate seafood creations; drinks are also sold here.
A few hundred metres away at Tha Don accommodation consists of the Phang Nga Bay Resort Hotel. This hotel is adequate for a night and puts birders right in the mangroves for the morning and is priced around 1000-1500 baht per night. The hotel is a little "tired" but the rooms are kept clean, if a little narrow, but the view over the mangroves and limestone karst is fantastic. The hotel has a restaurant and privides breakfast from 6.30am. In this area there are a number of other restaurants and tourists shops selling all sorts of things.

At the traffic lights on highway 4 there is another hotel which although I haven't stayed there, looks ok for a night. Although the provincial capital of Phang Nga is not far away most of the hotels there look old and unpleasant, but I am sure there are some other pleasant places around for those who search. On highway 4, a few kilometres east there are a couple of 7/11 stores selling most of the supplies that travelers could need. For medical supplies there are clinics, hospitals and pharmacies in the town of Phang Nga itself.

Phang Nga Bay Resort
Some Useful Books
Other Related Pages
Ao Phang Nga National Park Bird Checklist
Birdwatching Tours
Photo Galleries
Select the thumbnail photos to see larger images.
| | | | | |
| --- | --- | --- | --- | --- |
| Sunset from Phang Nga Bay Hotel | Mangroves | Coastal scenery | Limestone Karst | Limestone scenery |
Birdwatching Trips:
Ao Phang Nga is one of the best mangrove sites in Thailand and finding many of the specialist birds is easier here than most other sites. This location is definitely worth adding to both long and short Southern Thailand birding itineraries and is productive at most times of the year.

Look at some suggested itineraries, Thailand bird tours, or contact me for more information: nickupton@thaibirding.com.
Trip Reports
Related Blog Entries
Phang Nga Mangroves - posted 07/07/16
Mangrove Birding - posted 14/04/16
I Hope You Enjoyed This Page
If you found the information you were looking for here please let others know by liking this page on Facebook and Tweeting it.




Donations
If you found this page useful, please consider making a donation.