Kaeng Krachan National Park
(Updated 31/12/17)
Introduction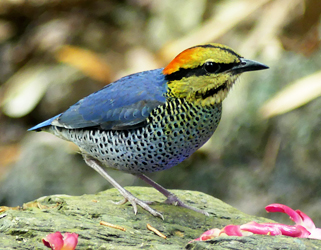 Blue Pitta

(Photo by

Nick Upton

)

Kaeng Krachan National Park, in Petchaburi and Prachuab Kiri Khan provinces, is the largest National Park in Thailand, occupying 2915 square kilometres (1125 sq. miles); this is possibly Thailand's premier forest birdwatching location due the quantity and quality of species that have been found there.

Most of the forest here is in an excellent condition and consists of evergreen tree species, although a number of deciduous species are also present, particularly in the lower elevations of the park. Kaeng Krachan's location on the border with Myanmar means it is part of a much larger forest complex than just the National Park and an excellent refuge for a huge number of species, including many of Asia's rarest mammals and birds; indeed Kaeng Krachan is part of one of the largest remaining stretches of forest in Southeast Asia and as such this location is of international conservation importance.

Kaeng Krachan is within three hours of Bangkok so it is just about possible to visit it as a day trip if one leaves before 5am, although it is much better to stay 2-3 days and take time to explore the forest - and it is worth visiting during the week to avoid the weekend traffic. It is possible to see an enormous number of species here by getting to many different altitudes and 100 species in a day is a real possibility but would perhaps be too much of a rush to enjoy fully.

It should be noted that Kaeng Krachan National Park is usually closed from 1st August until 31st October. Those who have attempted to enter during this period have always been turned away. This national park should also be avoided over the New Year period and Thai Songkran holiday when enormous numbers of visitors means constant traffic along the road making birding impossible.
Birding Highlights
Kaeng Krachan National Park is home to a huge number and range of species and is a place where some species that are rarely seen anywhere else in Thailand can be found with patience. This is where many southern species have their northernmost outposts as well as being where many other species are at their southernmost extremity. Kaeng Krachan is also the only place in Thailand where Ratchet-tailed Treepie can be seen, this species normally being found in Indochina.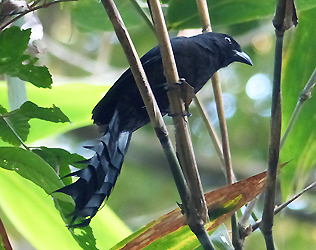 Ratchet-tailed Treepie

(Photo by

Nick Upton

)

A number of exciting ground-dwelling species inhabit the lush forests here but are extremely hard to find, with Grey Peacock-Pheasant, Kalij Pheasant, Ferruginous Partridge, Blue Pitta and Eared Pitta all being found - but only by a lucky few; most people only see these species after many visits to the park. Giant Pitta has also been seen here but sightings are EXTREMELY rare, only once every few years at most. The mid and upper storeys of the forest are also very productive in birding terms with many species from a wide range of bird families occurring. Great Slaty Woodpecker, Orange-breasted Trogon and Banded Broadbill are all regularly seen and more species are being added to the park list every year as more birders explore this wonderful habitat. There are so many good birds to see here that a visit of at least 2-3 days is essential as well as birding at different altitudes to maximise the number of species seen.

Hornbills are some of the most memorable birds in Thailand and Kaeng Krachan presents the opportunity to see Great, Oriental Pied and Wreathed Hornbills. Tickell's Brown Hornbills are present but more scarce, listen for them and you may be lucky.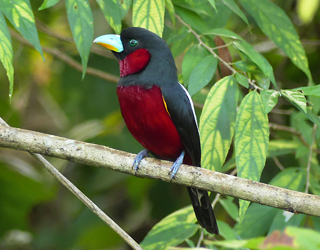 Black-and-red Broadbill

(Photo by

Nick Upton

)

Another distinct speciality of Kaeng Krachan national park are the Broadbills. These spectacular birds are extremely difficult to find outside of the breeding season, but when they are nest-building, from mid February to July, Dusky, Silver-breasted, Banded, Black-and-red, Black-and-yellow and Long-tailed Broadbills become easier to find; even Green Broadbill has been seen by some lucky observers. Of course, there is also a good range of commoner birds here with bulbuls, leafbirds, laughingthrushes, flycatchers, babblers, warblers and woodpeckers all well represented.

With such extensive, high-quality forest there is still a good mammal population here. Many species of squirrel can be found including the amazing Black Giant Squirrel which looks more like a dog in a tree with Dusky Langurs, Banded Langurs and White-handed Gibbon often seen leaping around in the canopy. Tigers, tapirs and elephants are still present in Kaeng Krachan, although seldom seen, and there are even rumours that Sumatran Rhinoceros, one of the world's most endangered mammals, still roams the forest but Kaeng Krachan does present visitors with one of the best chances of seeing Leopard in Southeast Asia.

A checklist of the birds for this location can be found here - Kaeng Krachan

Bird Watching Trips:
If you need help organizing a bird watching trip to Thailand, take a look at the suggested itineraries for ideas on creating a tailor-made trip and contact me for advice: Thailand bird tours.
Travel Information
Use the interactive map below to plan your route to Kaeng Krachan.
View Larger Map
Kaeng Krachan National Park can be reached within 3 hours of Bangkok if leaving early in the morning and driving a private vehicle. The simplest way is to get onto Rama 2 road and join the Petkasem Highway heading towards Petchaburi for about two hours; continue through Petchaburi until the town of Tha Yang where there are signposts to Panoen Tung in Kaeng Krachan National Park. Turn off of the Petkasem highway and follow the road to a strangely angled junction - bear right here and continue until reaching the dam. Follow the signs to Bang Krang camp and Panoen Tung. The route shown on the map above goes from Tha Yang to Panoen Tung via Ban Maka, Ban Song Nok, Samarn Bird Camp, the entrance gate and Ban Krang camp.

Arriving by public transport is also possible, but will incur some expense. From Bangkok take a bus to Petchaburi from the Southern bus terminal. From Petchaburi one must charter a songtaew to the National Park which should cost in the region of 1000 baht one way. Finding a songtaew will take a little effort but walking around the bus station asking to go to Kaeng Krachan National Park should get the right response. Taxis/songtaews for charter also wait at the town clock tower. If communication is a problem show the songtaew drivers the Thai script for the park: Kaeng Krachan National Park Thai Script.

At park HQ, or the park gate, entrance fees can be sorted out and at weekends there are drivers who offer a taxi service up and down the mountain and I'm sure the staff at HQ can contact some of them during the week. These drivers charge 1500 baht for a half day or 2000 baht for a full day (2016 prices). If this is not possible continue with your songtaew charter to the campsite (it will cost extra though).

For those wishing to head to the campsite at Km 30 (Panoen Tung) timing is important. From Ban Krang campsite the road is narrow and in varying states of repair and certain times are allotted for ascent and descent. Times for going up are 5.30-7.30 am and 1-3 pm. Times for going down are 9-10 am and 4-5 pm. As of 2015 driving up the road to Panoen Tung is only allowed in a vehicle with good ground clearance, a pick up or 4-wheel drive vehicle, not a standard saloon car or minivan. The state of the road does vary from time to time and one may read in some trip reports that driving to the top in a saloon car was possible, it is best to assume that the road will be fairly poor quality in places and loose stones on corners in particular can make it difficult to get enough traction; the park rangers will not allow visitors to drive up in unsuitable vehicles any longer. The road to Ban Krang is sealed all the way these days but attempting to cross the streams past Bang Krang campsite should be done with extreme caution as the entry and exits from the fords are quite steep - quite a number of visitors have ripped parts of their cars' bodywork off at these streams.

For those driving in and out of the park every day the gate opens at 5.30am and closes at 7pm, although it is advisable to be out before that due to the potential danger of elephants on the road, indeed you may find the rangers have locked the gate if you reach it after 7pm.
Finding Birds
Such is the quality of the habitat at Kaeng Krachan that a large number of interesting birds will be seen anywhere in the park, however, there are few special locations for a few particular species.
Ratchet-tailed Treepie can only be seen at the highest altitudes of the national park and has often been spotted near the Royal Lodge a short walk from Panoen Tung campsite, close to the restaurant at Panoen Tung and in the vicinity of Km 27 to Km 29. It has also been seen as low down as Km 24.

Grey Peacock-Pheasant, Pittas and Partridges are most often found in the gullies and clearings in the forest within a few kilometres of Ban Krang campsite and the streams in this vicinity are a good place to search for some of the rarer Kingfishers during the breeding season. All these species are really hard to find and on a short visit one would do well to see more than 1 of these species.

It is worth noting that the majority of the birding is from the road and at weekends constant traffic can make birdwatching quite unpleasant, dusty and difficult. The park is to be completely avoided on public holidays when it becomes very busy and difficult to bird along the road.
Headquarters: The headquarters is some distance outside the forest itself and really is not the prime birding spot for this site. However, some wetland and open-country species can be seen around here and it is worth exploring a little if waiting for transport up the mountain or there has been some other delay. Egrets, Pond Herons and Pipits can all be seen here and colourful birds such as Indian Roller and White-throated Kingfisher are typical residents. Black-collared Starling and Vinous-breasted Starling can be found here too and and even some forest species, such as Greater Racket-tailed Drongo, Lesser Necklaced Laughingthrush and Large Scimitar Babbler, can be found with luck in the thorny forest nearby.

Entry Roads: The roads from HQ to the park gate pass through farmland and forest fragments. Whilst the national park proper is the main attraction, some interesting species can be found along here. Indochinese Bushlark, Greater Coucal and Paddyfield Pipit are all quite common while Indian Rollers and White-throated Kingfishers will be seen on the overhead wires. Some of the grassier areas contain Grey-breasted Prinia, Lesser Coucal and Bright-headed Cisticola, and listen out for Chinese Francolin calling, you may be able to track one down or see it crossing a road. Sooty-headed Bulbul is common and both Black-collared and Vinous-breasted Starlings are around, although not abundant. At night Large-tailed Nightjars can be seen on the road itself and Spotted Owlets are fairly easy to find too.

Ban Song Nok: A few kilometres outside of the national park Ban Song Nok is a private garden and guesthouse owned by "Auntie Ek". She maintains a waterhole and blind as well as providing daily food to birds, meaning that this is usually a hotspot for certain species, particuarly if the weather has been dry.



Birds at Ban Song Nok are not confined to the blind area with the garden providing plenty of habitat and adjoining the forest. Birds such as Golden-fronted Leafbird, Lineated Barbet, Banded Bay Cuckoo, Tickell's Blue Flycatcher and Common Flameback all being regularly seen - Orange-bellied Flowerpecker will be feeding on fruit in the wet season - so it is worth having a look around for some of these species before or after you sit at the blind.

It costs 200 baht per person to visit the blind at Ban Song Nok and flash photography is not usually allowed as it can disturb some species, particularly the shy partridges - ask before using flash. Auntie Ek also requests that people do not use call playback here too, please respect her wishes.

Lung Sin Waterhole: This artificial waterhole is little more than a bird bath in the forest but during the dry season it attracts a profusion of birds. Activity here can be at high levels throughout the day with species such as Lesser Necklaced Laughingthrush, Greater Necklaced Laughingthrush, Scaly-breasted Partridge, Bar-backed Partridge, Large Scimitar Babbler, Kalij Pheasant, Tickell's Blue Flycatcher, Siberian Blue Robin and many other commoner birds all being regular.



Apart from the fact that a visit to this spot gives the chance to see some rare and secretive species, it is fantastic for photographers with close-range and clear views of all the birds. It is also a great place for birdwatchers to get really good views of commoner birds such as Puff-throated Babbler, Black-naped Monarch and Abbott's Babbler instead of the brief glimpses one often obtains in the forest.

Access to the hide here is strictly by appointment only, so I will not give directions as turning up without booking first would cause a problem; to book yourself into this hide it is best to do so through Baan Maka Nature Lodge or Samarn Bird Camp both of whom will take birders to the location after confirming your booking.

It costs 200 baht per person to visit Lung Sin Waterhole and flash photography is not allowed unless you want to book the whole hide out yourself as it deters the more secretive species from coming to bathe and drink.

Road to Bang Krang: This road passes through disturbed forest which is worth spending some time in to find many of the more common birds and a few of the less common ones. In the early morning there is usually a lot of bird activity along this road and it offers a good opportunity to see Thick-billed Green Pigeon, Black-naped Oriole, Greater Flameback, Grey-headed Woodpecker, Greater Yellownape, Hill Myna and Golden-crested Myna perching on exposed trees catching the early morning sunshine.

Black-thighed Falconets can often be found at a couple of points along this road; look out for them perched upon dead snags - they use old woodpecker holes as nest sites. Areas of forest near water along here are the best places to see Black-and-red Broadbill which is a fabulous bird that builds its messy nest over pools and streams - it is easiest to see between March and July.



The area around Kilometre 9, where there is a sharp bend in the road and a small bridge over some water is one of the best spots along this road for bird watching, particularly early in the morning where roosting woodpeckrs emerge and many birds typically come to warm up in the morning sun by perching in the treetops.

It is also worth driving out of the park an hour before dusk so that there is time to stop along this road when birds are spotted. Woodpeckers seem to be active right up until dark and several species can often be found along here at this time including Greater Yellownape, Common Flameback and Streak-breasted Woodpecker. Both Large-tailed and Great Eared Nightjars can easily be found along this area just before dark and a number of owls can be heard calling including Brown Boobook and Collared Scops Owl, but there will not be much time to find them before you must be off the road and out of the park.

Bang Krang Campsite: Birders will know that it is often in and around campsites that bird abundance is at its highest due to the "edge effect" and at Bang Krang this can often be true. In the dry season many flocking species can be obvious here with Scarlet Minivet, Blue-winged Leafbird, Black-winged Cuckooshrike, Swinhoe's Minivet and a variety of Leaf Warblers in almost every flock. Sultan Tits frequently show themselves to be very confiding here with both Taiga and Asian Brown Flycatchers lurking around in low trees.



Blue-bearded Bee-eaters usually frequent this campsite too; sometimes they are obvious, sometimes a little more searching is required. In the shady areas around the campsite Hainan Blue Flycatcher can usually be found in the dry season and for those of you who like Leaf Warblers, the low tress here offer the chance to get to grips with Yellow-browed, Two-barred Greenish, Claudia's and Eastern Crowned Warblers.

Several species of woodpecker can often be found here, with Grey-headed (Black-naped), Greater Yellownape, Common Flameback, Heart-spotted Woodpecker and Greater Flameback all being frequent and during the breeding season Silver-breasted, Black-and-yellow and Banded Broadbills can often be found. Whatever the time of year, though, a morning here is excellent for getting aquainted with many of the commoner forest birds and obtaining photos of them.

From the campsite a track crosses the stream and provides access to a seldom-visited part of the forest. At the stream crossing itself a small flock of White-rumped Munias are often to be found and along the track sightings of Black-and-red Broadbill are frequent. This is also a good area to look for Puff-throated Babbler, Violet Cuckoo, Orange-breasted Trogon, Streak-breasted Woodpecker and Greater Necklaced Laughingthrush. From the clearing at the "Youth Camp" it is often possible to see Grey-rumped Treeswifts flying around as well as many of the birds that also occur in the campsite. It is difficult to walk quietly on the tracks around this area as they are made of gravel and in the dry season they are covered in dead leaves. However, the track goes for a long way and the adventurous may find something exciting there and Blue Pitta has been photographed here in the past.

At night the campsite can be good for those that like night birding. Large-tailed Nightjars are common; listen for their call which sounds like a resonant "chonk, chonk" and Great Eared Nightjar can sometimes be seen cruising around just before it gets dark. Other night birds here include Asian Barred Owlet, Collared Owlet, Brown Hawk Owl, Collared Scops Owl and, for some lucky birders, Oriental Bay Owl and White-fronted Scops Owl (see below).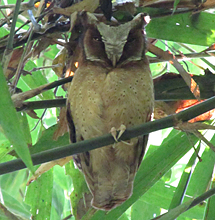 White-fronted Scops Owl

(Photo by

Nick Upton

)

Looking For White-fronted Scops Owl: Kaeng Krachan is one of the few places where birdwatchers have a chance of seeing this rare and secretive species. The owls can often be heard uttering their strange drumming call at night around the campsite and along the road near streams 1 and 2. However, in my opinion, walking along the road in the dark will eventually result in a birder getting crushed by elephants, so it is best to search for this bird in the campsite where many birders have found it.

Since March 2011 two White-fronted Scops Owls have been frequently viewed by large numbers of birders and photographers at a daytime roost near stream 2; please view these birds quietly and refrain from using flash.

If the staked-out birds have moved on then this species also calls and responds to call playback at dawn, throughout the morning and even in the middle of the day; contrary to what may be said about these owls I have heard them calling at all times of the day on many occasions.


Stream Crossings 1 to 3: Shortly after passing out of the campsite some moist forest is entered, which continues past the third stream crossing to the point at which the road begins to climb uphill; this is where many of the "best" birds are most regularly encountered. Tickell's Brown Hornbills often frequent this area and it is probably the best area of the park for seeing Orange-breasted Trogon which can often be seen sitting quietly out in the open.

This stretch of forest has a good helping of woodpeckers that can be seen, although thick vegetation and high trees can make them hard to see. Many species of woodpecker in Thailand join flocks and if you locate groups of Lesser and Greater Necklaced Laughingthrushes there is a decent chance that a woodpecker or two may be with them. Streak-breasted Woodpecker often joins these groups and sometimes any of the following may also join the party: Rufous Woodpecker, Buff-rumped Woodpecker, Greater Flameback, Common Flameback, Greater Yellownape, Crimson-winged Woodpecker, Banded Woodpecker, Heart-spotted Woodpecker. This is also a great area to find Great Slaty Woodpecker; a bird which is very reminiscent of a Pterosaur!

Ochraceous Bulbul is a bird that is common here and due to its restricted range you may not see it anywhere else; other bulbuls which are frequently seen along this tretch are Grey-eyed, Black-crested, Black-headed and Stripe-throated.

In the dry season bird abundance can sometimes be high along here in the morning with small species flocking together to feed. Swinhoe's Minivet, Blue-winged Leafbird, Black-winged Cuckooshrike, Sulphur-breasted Warbler, Eastern Crowned Warbler, Pin-striped Tit Babbler, Asian Paradise Flycatcher are just a few of the species which can be seen in most flocks. These flocks start to disappear as species begin to migrate and pair up to breed.



For those that wish to see forest kingfishers, this area gives you a decent chance in the breeding season. Banded Kingfisher can always be found but you must be patient, they sit still for ages and are eaily missed. Oriental Dwarf Kingfisher (the black-backed version) is absent for most of the year but it always turns up in mid March and is progressively easier to see as the nesting season proceeds.

Most visiting birders are keen to see Pittas but it should be known that these are extremely difficult birds to see. Outside of the breeding season the only Pitta that there is a realistic chance of seeing is Blue Pitta and even that is seen very infrequently until it begins calling in late February to March. From late April to early May Blue-winged Pittas and Hooded Pittas begin to arrive from further south and are fairly easily seen as they will call loudly from perches in trees. In the heart of the breeding season (June/July) Eared Pitta usually becomes findable and of course we can all dream of seeing Giant Pitta along here, and for the vast majority that is all it is - a dream!

Green Magpie is a bird straight out of a child's colouring book and it can usually be found along this piece of road, although it can be remarkably elusive considering how noisy it is. Crested Jay is an uncommon prize here too but it is seen on a semi frequent basis in this area.

Whilst there are many great birds to be found along this stretch of road I do not want to create the impression that you will see many of these species on any one visit. Most of these birds are very hard to find and it will take many visits to see even half of them and at times it is possible to walk for several kilometres and see virtually nothing.

Km 27.5: At kilometre Km 27.5 there is an obvious place to park a car; the spot is marked by a battered sign featuring a bird silhouette. From here up and down the road for about 1 kilometre is an excellent place to find Ratchet-tailed Treepie. This species can be difficult to find and very reluctant to show itself but several pairs are usually in the area. Long-tailed Broadbill is like something from a fairytale and frequently nests here and birders are hardly likely to forget Red-headed Trogon or Red-bearded Bee-eater if they see either of these birds here.



Bird waves can occur in this area and usually contain Grey-chinned Minivet, Speckled Piculet, White-throated Fantail, White-browed Scimitar-babbler, White-crested Laughingthrush and Yellow-bellied Warbler; in the dry season these are also usually joined by Sulphur-breasted Warbler and Swinhoe's Minivet. The smaller birds will sometimes give away the location of Collared Owlet as they mob it.

In the shrub layer along the road Radde's Warbler is common in winter and Collared Babbler can be found at any time of year; Golden, Buff-breasted, Grey-throated and Spot-necked Babblers are also resident at this altitude. If you are really lucky you may get a view of either Rufous-browed Flycatcher or Rusty-naped Pitta; both are fairly abundant in this area but they are really skulking and shy.

At times it can seem like there are no birds at all along here, but with patience there are a large number of excellent species can be found.

Panoen Tung Campsite: There are some magnificent views over the forest from this altitude and often lots of birds too. The campsite itself is a great spot for Barbets with Blue-throated and Blue-eared very easily seen and Great Barbet often calling noisily from treetops. Several other species can nearly always be easily seen here with Flavescent Bulbul, Blyth's (White-browed) Shrike-babbler, Mountain Bulbul, Orange-bellied Leafbird and Streaked Spiderhunter ever present. Migrant species which can commonly be seen here include Dark-sided Flycatcher, which is amazingly loyal to its favourite perches, Blue Rock Thrush and Ashy Drongo. This is also a great spot for actually getting a view of Vernal Hanging Parrot perched in a tree instead of seeing it zipping across the canopy.



The view point at the gate has a little shelter so it is a good place to sit and watch if it is raining and a few trees here regularly attract Bulbuls, Leafbirds, Barbets, Asian Fairy Bluebird and other fruit-eating species.The campsite view point 1 overlooks a stand of trees all of which bear fruit and if you are here at the right time they will be full of Barbets, Bulbuls and frequently Thick-billed and Yellow-vented Green Pigeons will join the party.

The restaurant view point is excellent and offers a great view over some lovely forest. This is a great place to sit and wait for birds to arrive in the middle of the day and several species of raptors are likely to be spotted when the conditions are right; Mountain Hawk Eagle, Rufous-bellied Eagle and Black Baza often show here. Hornbills are also likely to be spotted from here as they fly across the forest - Great and Wreathed Hornbills are frequent but be careful not to string Plain-pouched Hornbill as the stripe on the throat of Wreathed is very hard to see in flight and many of the id features in Robson's Field Guide are incorrect. Genuine sightings of this species at Kaeng Krachan are exceptionally rare. Smaller birds will also be seen while sitting here with Blyth's Shrike-babbler, Grey Treepie, Fire-breasted Flowerpecker and Dark-sided Flycatcher are highly likely to be spotted in an afternoon session at this relaxing place.

The campsite view point 2 looks out towards Myanmar and again, Raptors and Hornbills can often be spotted while in the surrounding trees Bulbuls and Barbets are frequent. This view point has no shelter so is exposed to the rain and sun making it less attractive to birders than the other view points which all have seating and shelter.

There is a short nature trail which starts a few hundred metres before the Panoen Tung checkpoint and goes through some very nice forest. The short walk along here can often turn up mixed flocks of birds including species such as Collared Babbler, Black-throated Laughingthrush, White-browed Scimitar-babbler, Lesser Racket-tailed Drongo and Golden Babbler - Ratchet-tailed Treepie sometimes joins these flocks too so be vigilant. The open understorey here is a good place to look for the skulking Rufous-browed Flycatcher; difficult to see but surprisingly common at this location.

Km 34-36: The road continues past the campsite for a few kilometres to a trail to TorTip waterfall; the section between kilometres 34 and 36 being perhaps the best and the open areas afford some lovely views over the forest providing the opportunity to scan for raptors - Rufous-bellied Eagle is seen more often here than most places, Grey-headed Fish Eagle is rare but Mountain Hawk Eagle, Oriental Honey-buzzard, Crested Goshawk, Grey-faced Buzzard are all frequently seen and when raptors are migrating other species, particularly Chinese Sparrowhawk, Japanese Sparrowhawk and Black Baza, are highly likely.

Bird Watching Trips To Kaeng Krachan:
If you have only a few days for birding from Bangkok, Kaeng Krachan makes an excellent two or three day trip. At any time of year a good selection of colourful forest birds are present with migrants present in the dry season and resident birds more obvious in the wet season.

Contact me to arrange a trip and/or to discuss the best birdwatching options for you: nickupton@thaibirding.com

It is worthwhile looking out for bamboo which has reached the flowering stage as this is favored by Pin-tailed Parrotfinch. In most years there is a clump of bamboo which flowers for a few months before dying and this always attracts these colorful little birds which are extremely difficult to see otherwise.

A few pairs of the stunning Red-bearded Bee-eater occupy this area, they are easiest to locate when breeding but can show up at any time, and other species such as Yellow-vented Green Pigeon, Wreathed Hornbill, Great Hornbill and various barbets will turn up in the fruting trees along here.

Most of the reports of Plain-pouched Hornbill come from this area; in my opinion the vast majority (all?) of these reports are misidentified Wreathed Hornbills. It can be very hard to see the stripe on the pouch of some Wreathed Hornbills and many of them also show the brownish base to the bill that the field guide suggests is an id feature. I was once fooled into thinking I had seen a Plain-pouched Hornbill here due to this feature but a photo was obtained and when we zoomed in we could see the stripe on the pouch which confirmed it as Wreathed Hornbill.

The trail to Tortip waterfall goes through some nice forest where some of the southern species at the northernmost limit of their range are sometimes seen with Streaked Bulbul, Black-and-yellow Broadbill, Red-throated Barbet and Maroon-breasted Philentoma all having been seen.
Facilities

Facilities within the national park are limited. At park headquarters there are a few bungalows but the quality of these are pretty low. There is also a decent campsite at HQ (next to the lake) with good toilet facilities for those that are required to wait here for any reason. There is a mulititude of accommodation here too. However, park HQ and the lakeside accommodation is some distance from the birding and most birders will want to get to Ban Krang campsite which is pleasantly situated with enough flat areas to pitch tents and several clean toilet/shower facilities. Food is usually available from the small restaurant but they do sometimes run out after the weekend, so it is worth bringing cooking equipment and food if staying for a few days without your own transport. There is camping equipment for hire; tents, sleeping bags etc. but some of the tents are very poor so don't be scared to ask for another one if the first one you get is little more than a plastic bag and some sticks. The campsite higher up at Panoen Tung is considerably better, with good tents for hire and a small restaurant and clean toilets and showers. The nearby town of Petchaburi is a suitable place to stock up on food for the camping trip with a large supermarket (Big C) on the main highway to the south.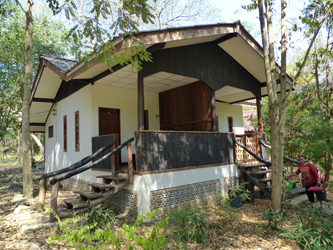 Accommodation at Ban Maka Nature Lodge

(Photo by

Nick Upton

)

For those wishing to stay in comfort then Baan Maka Nature Lodge is an excellent option and closer to the park gate (approx 15 minute drive) than the accommodation at the lake with good food and friendly management who speak fluent English and go out of their way to help guests with any sensible request. Samarn Bird Camp is also a good option for birdwatchers, with good quality rooms, good food and helpful owners; this has the added bonus of being very close to the park gate. Both of these guesthouses are used to catering to birdwatchers and will provide early breakfasts and assistance in visiting the forest. There are a couple of rooms available at Ban Song Nok too and "Auntie Ek" will probably provide food as she is very friendly, although I have never eaten there myself.

Nearby Padang camp is also a useful place to stay and has wireless internet available for those that need it. There are also a wide selection of guesthouses further from the park gate, near the dam, that are all pleasant enough if all other options are exhausted; it does, however, take about 25-30 minutes to drive to the park gate from this area. Staying at any guesthouse does involve travelling into the park every morning and paying the entrance fee every day.

The closest ATM is now at Kaeng Krachan municipality and there is a decent small hospital in the same area along with 7/11 and several other small stores.

The entrance fee to this National Park is now 300 baht per person for foreigners plus 30 baht for your vehicle.
Useful Books
Other Related Pages
Kaeng Krachan Bird Checklist
Baan Maka
Thailand Birdwatching Tours
Other Western Thailand Birding Locations
Accommodation Review: Baan Maka by Robert DeCandido
Photo Galleries
Select the thumbnail photos to see larger images.
| | | | | |
| --- | --- | --- | --- | --- |
| Sunset over the Lake | Fields & Forest | Ban Krang Campsite | Forest View | Forest Tree |
| Forest after a Storm | Road to Panoen Tung Lodge | View at Panoen Tung | Epiphyte | Fungus |
Butterflies at Kaeng Krachan

| | | | | |
| --- | --- | --- | --- | --- |
| Common Lascar | Common Map | Five-bar Swordtail | Psyche | Chain Swordtail |
| Chain Swordtail | Common Bluebottle | Common Pierrot | Common Grass Yellow | Orange Gull |

Birdwatching Trips:
Kaeng Krachan is a must-visit location for birdwatching trips in Thailand whether as part of a longer itinerary or for just a few days from Bangkok. Each time of year has its specialities but there is always something good to see at Kaeng Krachan.

Look at some suggested itineraries Thailand bird tours, or contact me for information: nickupton@thaibirding.com.
Trip Reports
Thailand Leaf Warbler Tour, 3rd-17th December 2016 - by Nick Upton

Southern Thailand & Kaeng Krachan Photography Trip, 8-20th June 2016 - by Nick Upton

Central & Northern Thailand, 1st-14th December 2015 - by Nick Upton

3 Days Kaeng Krachan, 16-18th April 2015 - by Nick Upton

Central Thailand, 13-21st February 2015 - by Nick Upton

Kaeng Krachan & Petchaburi Wetlands, 17-21st June 2013 - by Nick Upton

Kaeng Krachan & Tung Bang Jak, 4-5th July 2008 - by Nick Upton

Kaeng Krachan,Tung Bang Jak & Khao Yai, 8-11th May 2008 - by Nick Upton

Kaeng Krachan & Laem Pak Bia/Pak Thale, 19-20th February 2008 - by Nick Upton

Kaeng Krachan, Laem Pak Bia/Pak Thale & Khao Yai, February 2008 - by John Raven

White-fronted Scops Owl at Kaeng Krachan, 15-19th February 2007 - by Suthin Niraphai

Kaeng Krachan, 19-21st June 2006 - by Dominic Le Croissette

Kaeng Krachan, KNC & Krabi, 30th April-7th May 2001 - by Peter Ericsson

Kaeng Krachan National Park, 25th September 2000 - by Peter Ericsson

Kaeng Krachan National Park, 4th July 2000 - by Peter Ericsson

Kaeng Krachan National Park, 7-8th April 2000 - by Peter Ericsson
Related Blog Entries
Daap Waterhole, Kaeng Krachan - posted 21/04/17
Central Thailand - posted 10/03/17
Petchaburi Birding Trip - posted 18/01/17
Photography at Ban Song Nok - posted 27/11/16
Kaeng Krachan & Nearby Sites - posted 06/05/16
Great Birding at Kaeng Krachan - posted 07/03/16
North & Central Thailand Tour, February 2016 - posted 28/02/16
Birding in Petchaburi Province - posted 07/02/16
Mammals at Lung Sin Waterhole - posted 24/12/15
Rainy Season Birding; Kaeng Krachan - posted 02/07/15
Some Great Birding at Kaeng Krachan - posted 22/04/15
Lung Sin Waterhole - posted 01/01/15
A Successful Birding Tour - posted 17/03/14
Nesting Birds - posted 25/06/13
Birding at Kaeng Krachan - posted 05/02/13
Slaty-legged Crake at Lung Sin Hide - posted 18/12/12
Hornbill at Ban Maka - posted 05/05/09
Rusty-cheeked (Tickell's Brown) Hornbill - posted 30/04/09
Butterflies at Kaeng Krachan - posted 10/03/09
A Rainy Season Birding Trip- posted 09/08/08
Kaeng Krachan & Tung Bang Jak - posted 11/07/08
4 Day Trip: Kaeng Krachan, Tung Bang Jak & Khao Yai - posted 15/05/08
A Quest for Broadbills - posted 26/03/08
Butterflies at Kaeng Krachan - posted 24/03/08
More Birding at Kaeng Krachan & Laem Pak Bia/Pak Thale - posted 10/03/08
2 Great Days Birdwatching - posted 10/03/08
I Hope You Enjoyed This Page
If you found the information you were looking for here please let others know by liking this page on Facebook and Tweeting it.




Donations
If you found this page useful, please consider making a donation.