Laem Pakarang
(Updated 24/04/16)
Introduction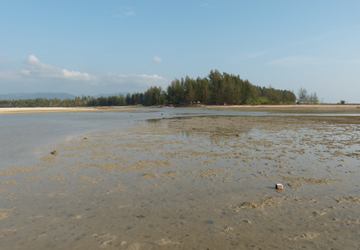 Laem Pakarang, in Phang Nga province, consists of an undeveloped sandy beach and spit with dead coral flats and mud that are exposed at low tide. Casuarina pine and palm trees line the beach and inland there are coconut plantations, lagoons and scrubland, making this a peaceful and scenic place with few visitors even though there are large numbers of tourists nearby at Khao Lak.

The coastal wetlands here are one of the best and most accessible shorebird watching sites in Southern Thailand, consistently playing host to a few species that are scarce elsewhere and while the inland areas are not exactly one of Thailand's prime birdwatching destinations, it does allow for a good morning or afternoon's birding if on holiday with non-birding companions in the nearby tourist areas of Khao Lak or Phuket. In fact quite a large bird list can be accumulated in this area, and particularly during migratory times it could turn up a few surprises.

Laem Pakarang is a useful addition to Southern Thailand birding itineraries given its proximity to Sri Phang Nga and Khao Sok National Parks.
Birding Highlights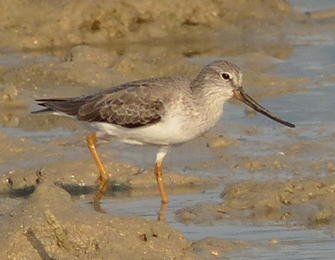 Waders and Terns are the main, and most reliable, attraction for birders visiting Laem Pakarang. A good selection of waders can usually be found here in the months late October to early April and this is a reliable site for Grey-tailed Tattler as well as Terek Sandpiper and Ruddy Turnstone while every now-and-then Crab Plover shows up for lucky observers.

Lesser Crested Tern and Black-naped Tern are perhaps the most notable Tern species that are regularly recorded and Bridled Tern is sometimes seen out to sea, but plenty of other species are likely. Interestingly, the subspecies albifrons of Little Tern can be found here and it seems may have been mistaken for Saunder's Tern by some observers; a species which has been removed from the Thai list. In harsh weather at the right time of year various seabirds are possible, there are many on the Thai list that have been recorded only a few times and here is as good a place as any to see one of these from the mainland.

Brahminy Kite is common here and White-bellied Sea Eagle is always a magnificent sight.

A checklist of the birds for this location can be found here - Laem Pakarang

Bird Watching Trips:
If you need help organizing a bird watching trip to Thailand, take a look at the suggested itineraries for ideas on creating a tailor-made trip and contact me for advice: Thailand bird tours.
Travel Information
Use the interactive map below to plan your route to Laem Pakarang. The blue line shows the route from Phuket Airport (A) and Surat Thani Airport (C) to Laem Pakarang (B).
Laem Pakarang is easy to get to as it is close to the tourist area of Khao Lak. If staying in Khao Lak it is possible to hire a motorcycle and drive the short distance to Laem Pakarang, about 13 kilometres. From Phuket, it would be possible to drive a hire car for the day, but it would be a bit far by motor scooter.

To get to Khao Lak from Phuket by bus is a simple affair from the main bus station, any bus to Bangkok, Takua Pa or Ranong will pass it. From Krabi buses to Ranong pass Khao Lak or if coming from Surat Thani, buses to Phuket via Takua Pa leave every hour and pass the turning for Laem Pakarang. It is possible to flag down these buses on the main road if travelling from Khao Sok to Laem Pakarang. Buses from Bangkok mostly go to Surat Thani and then towards Phang Nga and Phuket, which is a quick and comfortable route, but then it is necessary to get oneself to Laem Pakarang. Some buses from Bangkok to Phuket go via Ranong and stop at Khao Lak.

This takes a long and uncomfortable route over the Western mountains and I would not recommend this. Probably the most comfortable (but not the quickest) route to Laem Pakarang from Bangkok (other than flying to Phuket) is to take an overnight train to Surat Thani and then take a minibus to Khao Lak; these minibuses can be found at a number of places in Surat, the most convenient being at the bus station.
Finding Birds
This is really just a case of heading to the headland itself and either scanning the flats at low tide for birds or locating the high-tide roost. It may be worth a brief look around the surrounding inland countryside for some of the more common Thai species or passage migrants at the right time of year.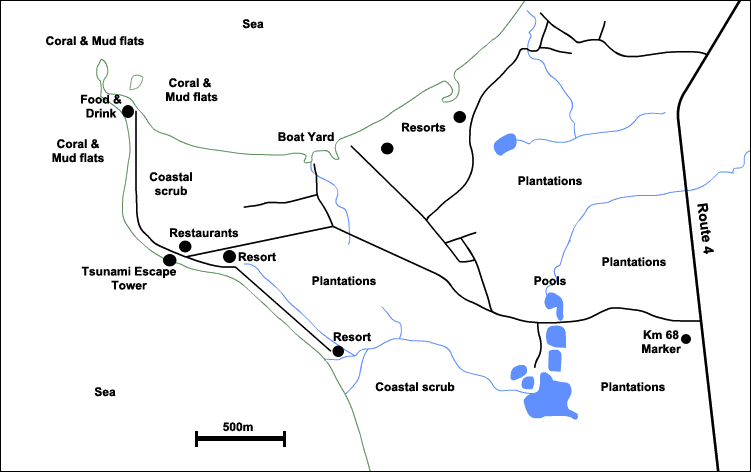 High-tide Roost/Mudflats: This is where the main ornithological interest lies at Laem Pakarang and where various Terns and Waders can be seen roosting at high tide and feeding at low tide. Most of Thailand's commoner waders turn up at this site with good numbers of Terek Sandpiper almost always present and this is an excellent place to get close to this handsome wader.

Lesser Sand Plover

Malaysian Plover

Greater Sand Plover

Pacific Reef Egret
(Photos by Nick Upton)
This is also a reliable mid-winter location for Grey-tailed Tattler with one or two birds usually feeding among the rocky areas. Malaysian Plover is an increasingly scarce species which is a resident here in small numbers and between October and April there are plenty of Lesser and Greater Sand Plovers present; in late March/early April these birds are stunning in their breeding plumage. Nordmann's Greenshank has been recorded here a few times but the star attraction is Crab Plover which gets seen here most years in the months of December and January. Other common species of wader likely to be seen here include Common Greenshank, Whimbrel, Eurasian Curlew and plenty of Ruddy Turnstones but there is always the chance of something rare showing up.

Chinese Egret has been reported from this location a number of times while Pacific Reef Egret is a permanent resident. Chinese, Javan and Indian Pond Herons have all bee recorded here but in breeding plumage they are impossible to tell apart, wait until late March/early April when they come into breeding plumage.

For those wishing to get photographs of shorebirds this is a great place to find a spot to sit and wait for feeding birds to come close.

Coastal Scrub & Plantations: The inland area consists of a mosaic of plantations, scrubland, pools and scraps of woodland and although it is not exactly the habitat that birders should flock to there is definitely the possibility of building up a fairly interesting bird list. This is excatly the type of habitata that a number of Green Pigeons use and early morning/late afternoon would be the best times of day to encounter one of these birds. Common Flameback has been recorded here as have species such as Lanceolated Warbler, Chestnut-headed Bee-eater, Watercock, Lineated Barbet and Banded Bay Cuckoo. In late October/erly November birders are likely to witness raptor migration with Black Baza, Oriental Honey-buzzard, Chinese Sparrowhawk, Japanese Sparrowhawk and Grey-faced Buzzard being the most common. Birding here in March/April, when many species are migrating, could be productive too, look out for Yellow-rumped Flycatcher, Green-backed Flycatcher, Tiger Shrike, Forest Wagtail and many more, in fact virtually anything could turn up at this time.
Facilities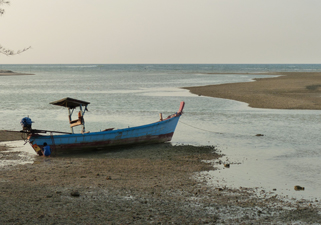 At Laem Pakarang there are few facilities, although at the end of the road there is a small restaurant that sells good food, soft drinks and even alcohol for those wanting to sit and enjoy the sunset. There are also a few hotels a few kilometres back along the road which would make a quiet and very convenient place to stay for birders. Close to the junction with the main road there are a few simple shops to buy snacks and drinks in as well as a few more small places to stay.

Nearby Khao Lak is an ever-growing tourist centre and has a large amount of accommodation from the very highest standards to cheaper places for those on a tight budget. There are a number of small shops in Khao Lak where provisions can be purchased and lots of restaurants of all types, but for those who prefer a more genuine Thai experience the town of Takua Pa is 30 kilometres north where markets and accommodation can both be found. It is also good to know that there are signs all along the coast in this area detailing evacuation routes should there be another tsunami.
Some Useful Books
Other Related Pages
Laem Pakarang Bird Checklist
Birdwatching Tours
Other Southern Thailand Birding Locations
Shorebirds in the Hand
Leg-flagged Shorebirds in the Inner Gulf of Thailand
Bird List from Khao Lak & Laem Pakarang
Photo Galleries
Select the thumbnail photos to see larger images.
| | | | |
| --- | --- | --- | --- |
| Laem Pakarang | Laem Pakarang | Laem Pakarang | Laem Pakarang Beach |

Birdwatching Trips:
Laem Pakarang is a good shorebird site and is a great addition to any Southern Thailand birdwatching itinerary with the potential to see a few species that are scarce at other locations around the country; between late October and early April is the best time to visit.

Look at some suggested itineraries, Thailand bird tours, or contact me for more information: nickupton@thaibirding.com.
Trip Reports
Related Blog Entries
Beach Thick-knee Close Up - posted 01/04/17
Laem Pakarang Shorebirds - posted 20/04/16
I Hope You Enjoyed This Page
If you found the information you were looking for here please let others know by liking this page on Facebook and Tweeting it.




Donations
If you found this page useful, please consider making a donation.