World Conservation Wader Watch
Introduction
A few weeks ago Rick Simpson, of Wader Quest, contacted me to encourage me to take part in the 4th Wader Conservation World Watch on the 4th and 5th November 2017. This weekend of wader watching is organised in order to draw attention to the plight of the world's wader/shorebird species which are almost universally in decline due to a combination of wetland habitat destruction, pollution, hunting, predation by introduced species and development of beaches. I found myself in Petchaburi province, Thailand, for both of these dates and there could hardly be a better place in the world to observe and count waders and, of course, I found a wide range of species, in large numbers, including some extremely rare birds. Unfortunately, I also discovered some saddening destruction of prime wader roosting pools by a poorly-sited mangrove planting project.

Weekend Account
The first site visited in the early morning of 4th was Pak Thale. This is a traditional wintering site for the critically endangered Spoon-billed Sandpiper but I was not aware of any regular sightings up until this date this year so I was not sure if I would find one. Well, I should not have worried because I did find one although it was not easy as there were large numbers of small birds present and they were not very close or in good light, however, that distinctive bill stood out and eventually as it got closer we could see it well. The photo is not going to win any awards but you can see that distinctive bill shape.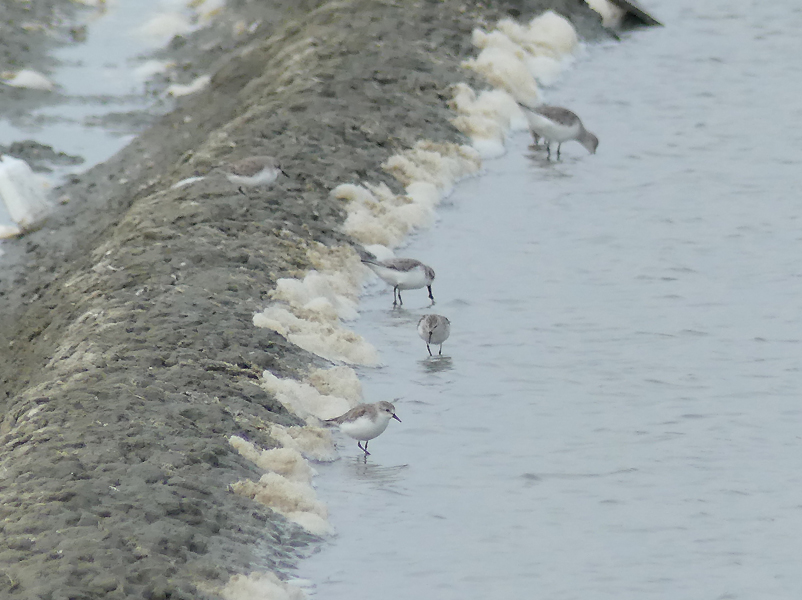 Spoon-billed Sandpiper & Red-necked Stints
In the same area were large numbers of Red-necked Stint, Broad-billed Sandpipers, a flock of 750+ Eurasian Curlew with one Far Eastern Curlew picked out among them, Black-winged Stilts, a few Curlew Sandpipers, 1 Dunlin, 3 Ruddy Turnstones, many Marsh Sandpipers, a few Common Greenshank, lots of Lesser Sand Plovers and Greater Sand Plovers and some Kentish Plovers. All good but some of the gloss was knocked off when I drove the very short distance to the coastline to find that the pools that were adjacent to a row of mangroves and which were favoured for roosting by many of the large waders were being planted up with rows of mangroves which completely destroy the site for roosting shorebirds.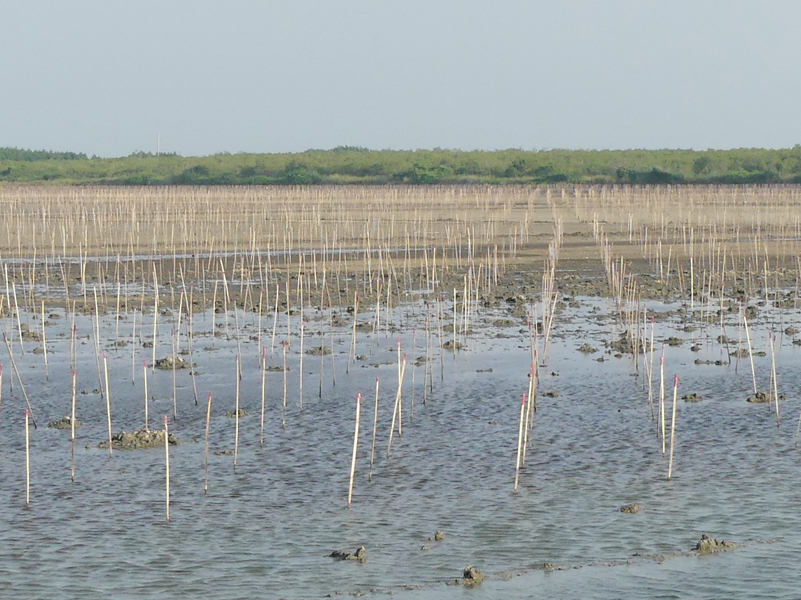 Some may say that the waders can go and roost somewhere else but I would suggest if that somewhere else was as good a place to roost as this had been then they would have been there in the first place. Moreover, the whole area of salt farms and associated pools is gradually being lost to small developments, land use change and general squeeze on habitat. Waders prefer an open aspect and as mangroves and factories enclose pools the shorebirds stop using them. I have also seen Spoon-billed Sandpiper feeding on these pools on quite a few occasions. Another resource for one of the world's rarest shorebirds destroyed and the irony is that the mangrove planting seems to be feted as some sort of environmental project.

Full species list for Pak Thale, 4th November 2017.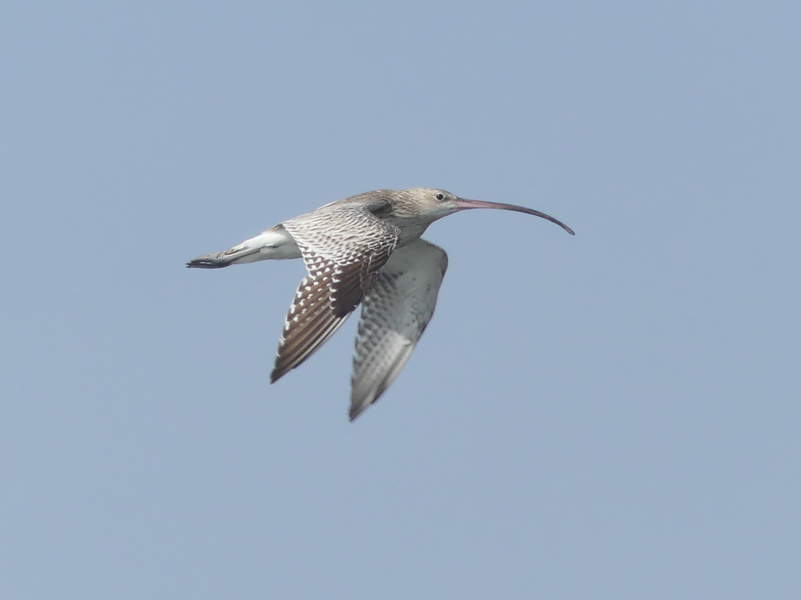 Eurasian Curlew
Moving on I went a short distance to Wat Komnaram where a large flooded field always contains some interesting wader species. Here there were a couple of Grey-headed Lapwings, 2 Long-toed Stints and a few Little Ringed Plovers to add to our wader total. But guess what? Part of the site was destroyed last year, being turned into deep-water shrimp farms and the rest of the site is now for sale, no doubt to go the same way and remove another piece of quality bird habitat.

Full species list for Wat Komnaram, 4th November 2017.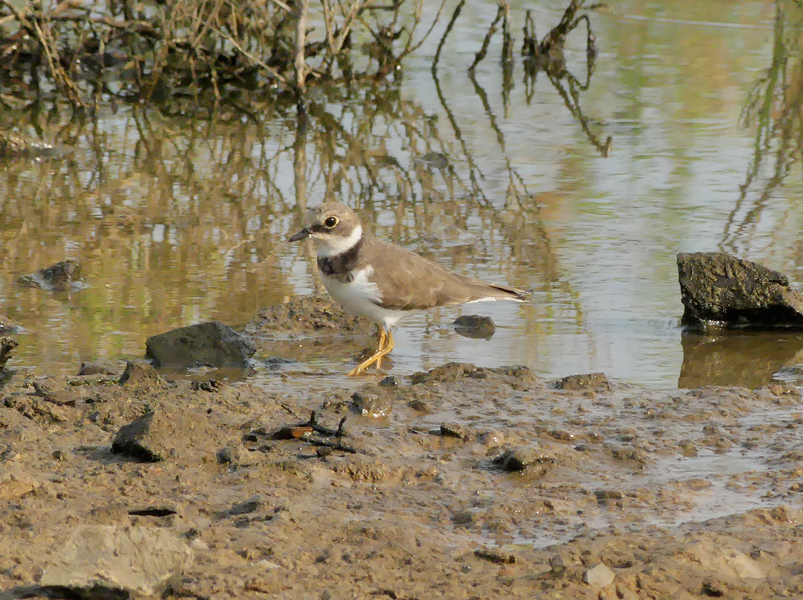 Little Ringed Plover
We drove to Laem Pak Bia district where we got some close views of Red-wattled Lapwing, Wood Sandpiper and Marsh Sandpiper; all common birds here but nice to see at close range.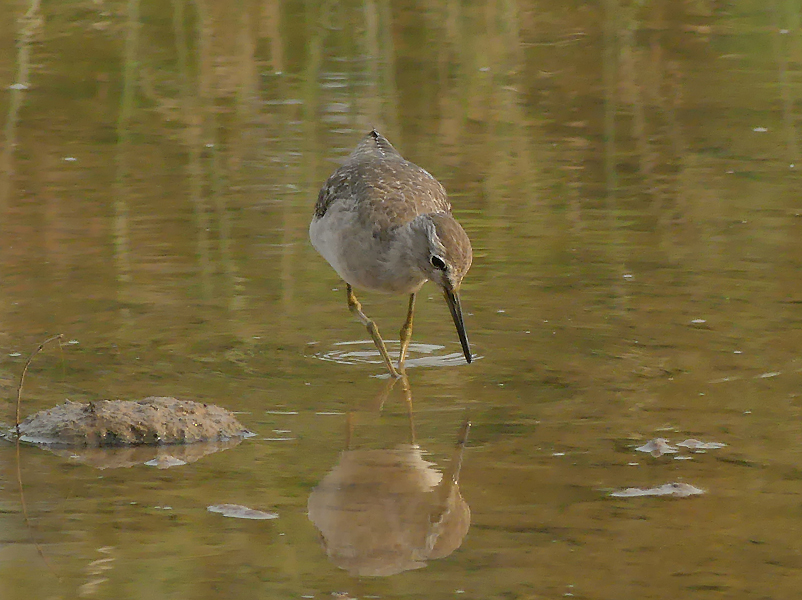 Wood Sandpiper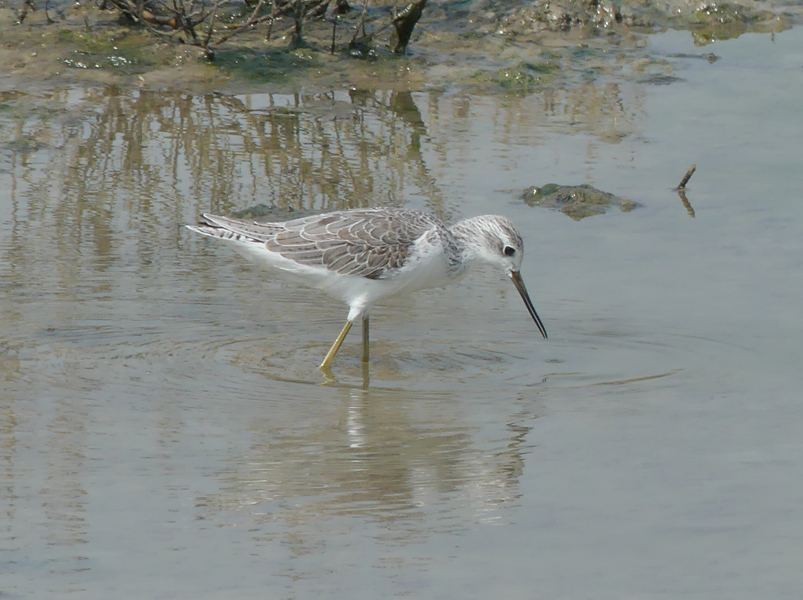 Marsh Sandpiper
A little around the corner there was to be found something a bit more out of the ordinary. The abandoned building is actually a good place to find Asian Dowitcher and true to form there were two of these among a flock of Black-tailed Godwits; a nice find. There were plenty of commoner species here too and we added Pacific Golden Plover, Ruff, Common Sandpiper as well as Common Redshank to our day list of waders.

Full species list for Abandoned building salt farms, 4th November 2017.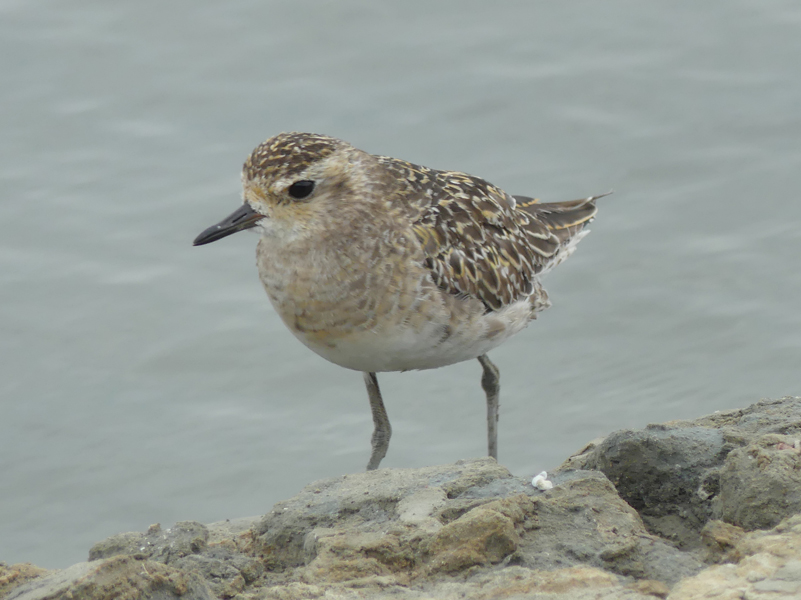 Pacific Golden Plover
Our next site required a short boat trip out to the sand spit at Laem Pak Bia. This is a great place to find a few specialities and moments after arrival we were watching 5 Malaysian Plovers on the sand. These lovely birds are under threat too as they specialize in nesting on sandy beaches which are under constant pressure from human usage. This particular site has suffered over the years from some truly stupid engineering works by the local authorities which have resulted in a large amount of sand being eroded and deposited in an area that the Plovers cannot use. This and a car park being built at a formerly secluded beach have reduced the number of Malaysian Plovers that nest here. I should also mention the iThara Resort close by which was built on a former Malaysian Plover nesting site and is, incredibly, now used by many birding tour companies. I know that not using the place is not going to change things but do birders really have to patronize a business that has contributed to the increasing decline of this highly sought-after bird? That is ridiculous.

Our other target species on the sand spit was White-faced Plover. This distinctive bird is currently regarded as a subspecies of Kentish Plover but should probably be better treated as a full species due to structural, plumage and ecological differences. A number of Sanderling were also to be found on the beach here along with large numbers of Kentish Plover, several Lesser Sand Plover and a single Whimbrel.

Full species list for Laem Pak Bia sand spit, 4th November 2017.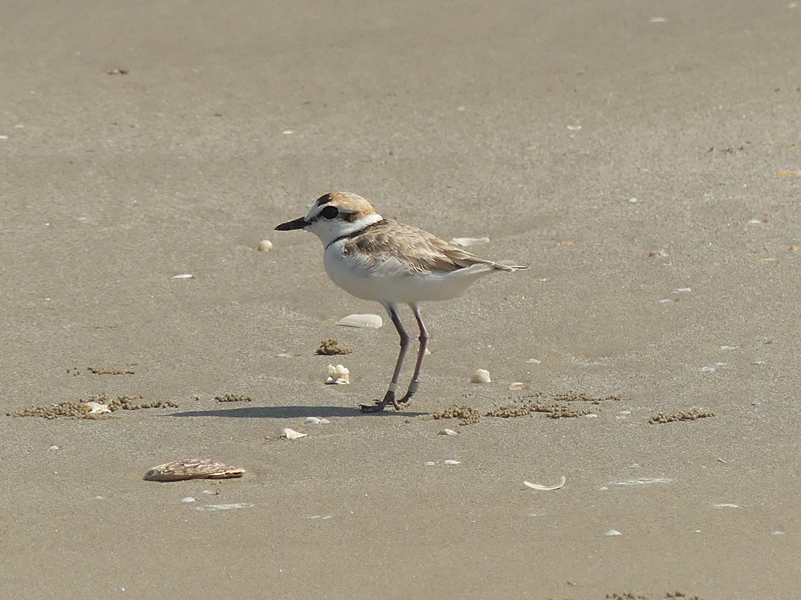 Malaysian Plover
That was it for the 4th November but on the 5th we visited nearby Petchaburi Rice Fields in the morning. The only wader species that were added to our weekend list were Pheasant-tailed Jacana & Bronze-winged Jacana, but we did also see plenty of Black-winged Stilts, Wood Sandpipers and a few Marsh Sandpipers here. At this time of year, just after the end of the rainy season, water levels are quite high in the rice fields making the habitat unsuitable for some of the species that are usually found there such as Snipe and Stints.

Full list of species at Petchaburi Rice Fields, 5th November 2017.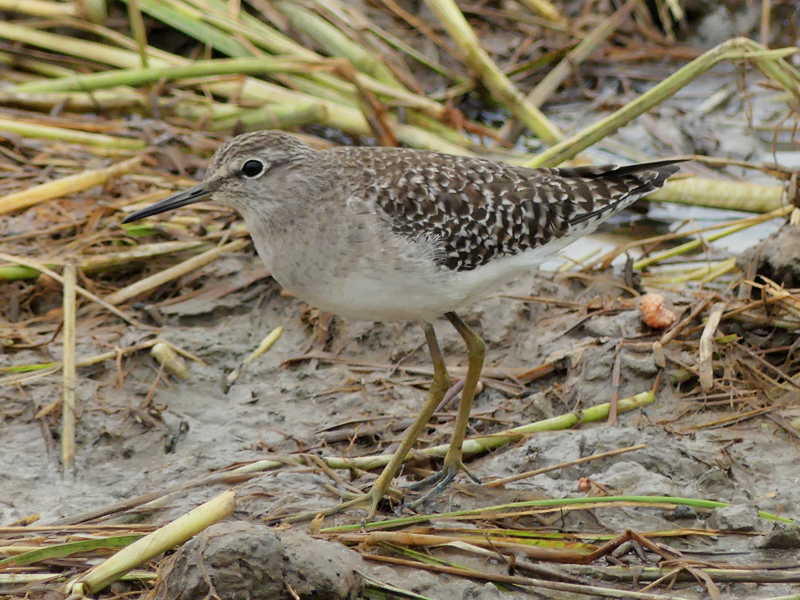 Wood Sandpiper
However, we had the afternoon to play with and a return to Laem Pak Bia district put us in the salt pans just as many species were returning from the mudflats with the rising tide. Several flocks of a few hundred Great Knot flew past us close by and on the salt pans were several Bar-tailed Godwits, a small group of Pied Avocets and a single Nordmann's Greenshank, all new species for our weekend total. Of course we also saw many birds that we had seen the previous day including Long-toed Stint, Temminck's Stint, Curlew Sandpiper, Pacific Golden Plover, Grey Plover, Broad-billed Sandpiper and others.

Full species list for Laem Pak Bia salt farms, 5th November 2017.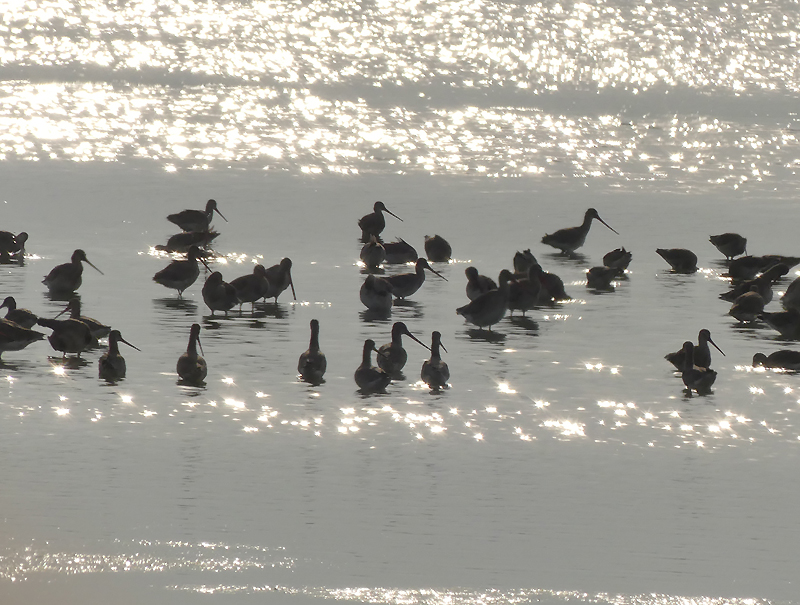 Black-tailed Godwits
Over the weekend we saw 36 species of waders plus White-faced Plover which some authorities treat as a seperate species. As well as being a good weekend of birding it really brought home to me the pressure that waders are under from human activity seeing habitat being destroyed and degraded in front of me. The fact that little by little this area, which is an extremely important wintering site for many species, is being chipped away and it may not be very long before there are very few large expanses of habitat left here and if the pools that Spoon-billed Sandpiper so heavily favours are damaged in any way or the land use changes this critically endangered bird will lose its most important wintering site in Thailand.

I hope many others took part in the World Conservation Wader Watch and that it results in at least some new people becoming involved in wader conservation. If you want to be involved in wader conservation take a look at the Wader Quest website where details of exactly how the money that they have raised has been spent (Wader Quest Project Updates) and hopefully this transparency will encourage others to donate towards the projects they support. If you were not involved this year, keep an eye on the Wader Quest website for next year's Wader Watch.
Nick Upton

Other Related Pages: Shorebirds in the Inner Gulf of Thailand, Rediscovery of a Long Lost Charadrius Plover from Southeast Asia, The First Record of Over Summering Spoon-billed Sandpiper, Laem Pak Bia/Pak Thale, A Big Wader Day