Suan Luang
Introduction

Olive-backed Sunbird
(Photo by Alister Benn)

Suan Luang is a large park in the eastern suburbs of Bangkok and was designated in tribute to the King. Most of the park is carefully manicured, with planted borders and sports areas, but there are also some unkempt corners, overgrown ponds and some mature trees which can harbour some interesting species.

This is a popular place for joggers and picnics and can get quite busy, so it is essential to arrive early in the morning; you won't be stared at too hard as Thai birders are sometimes to be seen here too. This park's location near the edge of Bangkok and next to a reservoir means that a surprising number of species can be seen in a morning here.
About Google adverts
Birding Highlights
The main reason for making a trip to Suan Luang is if you are on a short trip to Bangkok and only have few hours to do some birding or, of course, if you live in the area. The birds which can be seen here are the more common open-country species, some waterbirds and a few migratory species. As this is a well-kept ornamental park with few areas of dense vegetation the birds that occur here are easy to see, including Plain-backed Sparrow, a number of Leaf Warblers, Yellow Wagtail, Black-collared Starling, Red-throated Flycatcher with a small colony of Black-crowned Night Herons around an overgrown pond.

Coppersmith Barbets are common here (when they are heard it is obvious how they got their name), as they in other parks in Bangkok, and they, along with the other species found here, offer a good chance to practice your photography.


Red Collared Doves
(Photo by Suppalak Klabdee)
Click here for a checklist of the birds of Suan Luang
| | | |
| --- | --- | --- |
| | | Bird Tours : Check the suggested itineraries for ideas on creating a tailor-made birdwatching trip to Thailand: Thailand bird tours. |
Travel Information
The best way to get to Suan Luang is to take a taxi; tell the driver you want to go to "Suan Luang Lor Gaow" or show him the Thai script: Suan Luang Thai Script. From the centre of the city it should cost around 150 baht on the meter. It is quite possible to arrive by public transport also, there are lots of buses that go along Sri Nakarin Road, from the city centre, but these can take quite a long time. Get off the bus at Seri Centre, a big shopping mall, and walk up the small road beside it until reaching the park; about 1.5 Km.

When leaving, there are often taxis near the exit, or a motorbike taxi can be taken back to Sri Nakarin Road where there will be lots of taxis or buses back to the city centre.

It costs 10 baht to enter the park.
About Google adverts
Finding Birds
Finding birds at Suan Luang is really a case of searching out the most unkempt corners of the park, and there are a fair number of these, making this a surprisingly productive area. All of the small areas with mature trees can be good places to find migrant Leaf Warblers and Flycatchers and there are a few interesting areas which border the park:
At the north west corner a large reservoir can be overlooked where various Egrets can be seen and if the water level is low a few waders occur.
The eastern boundary overlooks a large wet scrubby area where Acrocephalus Warblers occur amongst other things.
The south eastern boundary is bordered by an overgrown drainage pond where Kingfishers usually hunt and Pond Herons lurk, pretty much anything could turn up in it during migration.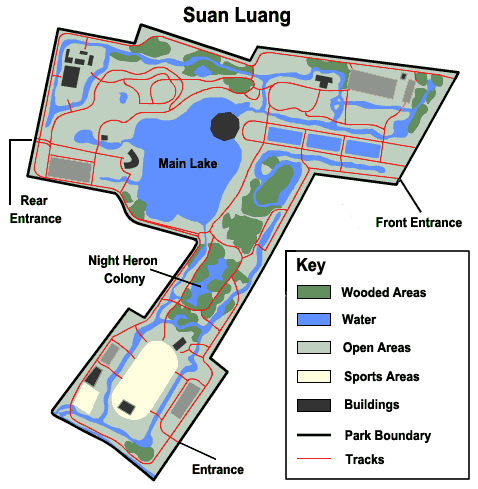 Night Heron Colony : The rather overgrown pond here is home to a small colony of about half a dozen Black-crowned Night Herons which can be seen roosting in the trees overhanging the water during the day. This is a good place to sit and wait for other species to turn up with Common Iora, Plaintive Cuckoo and Brown-throated Sunbird all likely to show up. In the past I have also seen Arctic, Two-barred and Eastern Crowned Warblers here together with Asian Brown, Taiga and Brown-streaked Flycatchers during migratory periods.

Wooded Areas : Most of the park consists of ornamental gardens but all the small wooded areas are worth checking out for birds such as Pink-necked Pigeon and Small Minivet. Common Iora and Pied Fantail are always present in these areas and during the "winter" months it is worth searching for Flycatchers and Leaf Warblers.

A surprising amount of other wildlife can also bee seen in these wooded regions with Variable Squirrel and tortoises both occurring.


Black-crowned Night Heron
(Photo by Johan Svensson)
Facilities
About Google adverts

Yellow-browed Warbler
(Photo by Alister Benn)

There is no reason for anyone to stay in this part of town when this park is only a taxi ride away from many quality hotels in the town centre: Bangkok Hotel Reservations. If determined to stay near Suan Luang be careful which type of hotel you choose, you could quite easily end up in the sort where rooms are charged by the hour rather than by the night! However, the Novotel, close to Seacon Square is a quality hotel and a good place to stay if venturing out to Muang Boran Fish Ponds or Bang Poo.

Within the park itself there are a few snack kiosks selling drinks for when the heat becomes too intense. Just outside of the park there are a few food stalls where food and drink is available and fruit sellers with fresh produce. There are often yoga and aerobics sessions which anyone can join, boats for hire and a museum devoted to the King in the park too. However, after a hot morning here it is nice to go to the nearby shopping mall, Seacon Square, where there is a large variety of restaurants with very soothing air-conditioning. Ten-pin bowling and cinemas provide added distractions here too.

Donations
If you found this page useful, please consider making a donation.
Other Related Pages
Photo Galleries
| | | | |
| --- | --- | --- | --- |
| Sports Field | Leafy Pool | Water Gardens | Monument to the King |
| Giant Water Lillies | Secluded Pool | Shrine | Cygnus siamensis |
Related Blog Entries
Yellow-vented Bulbul - posted 14/09/08
Olive-backed Sunbird - posted 14/06/08
Suan Luang in the Afternoon - posted 03/05/08
Tags
birds, birding, thailand, nature, national parks