Huay Tueng Tao
Introduction
Huay Tueng Tao, in Chiang Mai province, is a large recreational area owned by the Thai military. Surrounded by woodland and non-intensive mixed farmland the site has produced quite a large number of species although many of them are infrequently seen.

View across the lake at Huay Tueng Tao
(Photo by Nick Upton)

Whilst Huay Tueng Tao is not one of the north's prime birding locations, its close proximity to Chiang Mai city makes it a useful place to visit if one only has a morning or afternoon free and an ideal destination for those birders who are on holiday with non-birding friends and/or family.

This area is used by quite a number of locals and a few tourists in the early morning and late afternoon for running and bicycling but it is unlikely to ever get too busy for birding. A large number of restaurants on the lake edge are an attraction for locals and once again allow birders to enjoy the area with their non-birding co-travellers.

Spending some time here and walking around a lot can reveal some good birds, particularly in "winter" and this is an excellent location to add to your birding itinerary if you are only visiting the north of Thailand as you will surely see species that you will not find in the mountains.
About Google adverts
Birding Highlights
At Huay Tueng Tao there are a number of excellent species that can be found. Rufous-winged Buzzard is an obvious highlight which is regularly seen here, both in flight and perched. The difficult to locate Chinese Francolin can frequently be heard calling in the rice field area but seeing it can be tricky. The small area of rice paddies here can reveal some other excellent birds including the surprisingly attractive Bright-headed Cisticola and Small Buttonquail and Chestnut-capped Babbler are also present.

Highlights of the woodland that borders the area include rather easy-to-see White-crested Laughingthrush, Rufous Treepie and Lineated Barbet, all large and colourful birds. Tickell's Blue Flycatcher is fairly abundant here and the possibility of Purple Sunbird, Fulvous-breasted Woodpecker, Chestnut-tailed Starling and Red-billed Blue Magpie mean that a visit to Huay Tueng Tao presents potential for some good sightings.

Click here for a checklist of the birds of Huay Tueng Tao


Bright-headed Cisticola
(Photo by Johan Svensson)
| | | |
| --- | --- | --- |
| | | Bird Tours : Check the suggested itineraries for ideas on creating a tailor-made birdwatching trip to Thailand: Thailand bird tours. |
Travel Information
Getting to Huay Tueng Tao is a fairly simple affair from Chiang Mai town centre. Almost all tuk-tuk drivers know the location and can take you there for around 200 baht. Whilst most tuk-tuk drivers in Chiang Mai can speak at least a little English, Huay Tueng Tao is not somewhere many tourists ask to go to and pronouncing the name so that Thais can understand it is very difficult for foreigners; to save much frustration download the Thai script for Huay Tueng Tao and show the tuk-tuk driver.

Getting out of Huay Tueng Tao by public transport is very difficult and will require a long walk in the heat to get to the main road where tuk-tuks and songtaews can be found. Instead, arrange for your tuk-tuk driver to return and collect you at a set time - they will be happy to do so.

The best plan is to go to Huay Tueng Tao in your own transport; hire cars are freely available in Chiang Mai and prices can be negotiated very cheaply. Head from the town centre towards Doi Suthep from the northwestern corner of the old city. When encountering the canal road (this is very obvious as it runs alongside a prominent canal) turn right, heading north. Follow this canal road north for 6 or 7 kilometres until seeing a sign which indicates Huay Tueng Tao. Turn left here, cross the canal and follow the road into the site; there is a small booth collecting the 20 baht entrance fee just before reaching the site. Using your own vehicle means that you can drive around the lake and head back to Chiang Mai when you feel like it and without the bother of finding some form of public transport.

The close proximity of Huay Tueng Tao to the main road which heads north from Chiang Mai means that it makes a useful stop when either heading north to other birding sites or when returning from these sites to Chiang Mai.
About Google adverts
Finding Birds
The regenerating dry dipterocarp woodlands to the north-east and east of the lake is a good place to look for Rufous Treepie, White-crested Laughingthrush and Lineated Barbet.
The farmland at the north-western end of the site is the best place to find Rufous-winged Buzzard, Bright-headed Cisticola, Chinese Francolin and other open-country birds.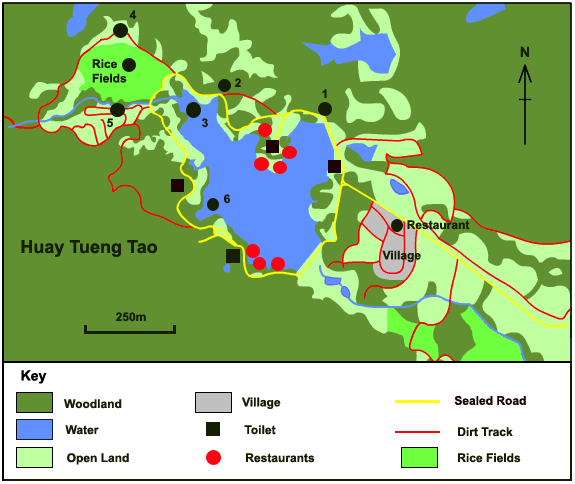 Woodland Between Points 1 & 2 : The dry woodland between these two points is often good, particularly in the early morning, for a number of nice species. Rufous Treepie can usually be detected by its noisy call as can the persitent Lineated Barbet. White-crested Laughingthrush is a fairly common forest bird throughout Thailand but seeing one can be really tricky; here there is a good opportunity to get decent views of this lovely bird. Greater Racket-tailed Drongo is common in this habitat and Tickell's Blue Flycatcher can often be heard singing low in the trees. On one occasion I saw a flock of Red-billed Blue Magpies in this area and in winter an abundance of Taiga Flycatchers and Yellow-browed Warblers will be found.
Shallow End of the Lake : the lake at Huay Tueng Tao doesn't often turn up any interesting waterbirds, although once Tony Ball stumbled upon a Great Crested Grebe. However, this end of the lake is the only spot with any real marginal habitat and any waterbirds that are to be seen would most likely be found here. I have seen a few Lesser Whistling Ducks, Common Moorhen, Cinnamon Bittern, Chinese Pond Heron and Striated Heron here. Kingfishers are possible too with White-throated and Common Kingfishers both being regular.
Chinese Francolin
(Photo by Johan Svensson)
m

Grassy Corner : At this point there is some rough grass and scattered trees that always seem to contain Green Bee-eater and Black Drongo. Other birds that can be found here include Grey-breasted Prinia and Bright-headed Cisticola.

Rice Fields : This area cultivated for rice harbours a number of interesting birds that can't be found on the rest of the site. Pied Bushchat is common here all year round and Eastern Stonechat is common in the winter months. Also during the winter months there are times when the paddies here are dry and stubble is the only vegetation, at this time birds such as Paddyfield Pipit, Zitting Cisticola, Bright-headed Cisticola, Indochinese Bushlark and Chinese Francolin are easier to find than when the rice is growing. I have also seen Small Buttonquail here and Rufous-winged Buzzard likes to perch on trees in this area.

Poking around in the scrubby undergrowth bordering this rice-growing area can be rewarding too with species such as Thick-billed Warbler, Yellow-streaked Warbler, Bluethroat, Siberian Rubythroat and Dusky Warbler available to those who spend time searching and in winter there is the potential for a number of uncommon species here.
Creek : A small creek/ditch always seems to contain Chestnut-capped Babbler. Listen out for its call and locate it by watching for movement in the undergrowth. Red-whiskered Bulbul is abundant in this spot and the rice fields can still be viewed from here.
Inlet : The area around this inlet always seems to produce a few birds. Ashy Woodswallow is a fixture here and it is often possible to find Plaintive Cuckoo, Common Kingfisher, Brown Shrike and Lesser Coucal. Wire-tailed Swallows frequently perch on submerged twigs in the water.
Facilities
About Google adverts

Restaurants on the Lake
(Photo by Nick Upton)


Huay Tueng Tao is only a short distance from the city of Chiang Mai which has a profusion of hotels, guesthouses and hostels to choose from in terms of accommodation; Chiang Mai Hotels; making it the most obvious place to stay when visiting. Whilst food and drink can easily be brought along from Chiang Mai or one can return to the city for food after birding here, there are some facilities on site. There are quite a number of little restaurants fringing the lake which serve good Thai food and sell drinks which will probably be needed considering how hot it can get here.

There are a couple of public toilets scattered around the site meaning that you don't have to hold it in and wait to return to Chiang Mai.

It is very difficult to find any transport back to Chiang Mai so ensure that you have come in your own vehicle or arrange for a tuk-tuk driver to pick you up
There is a 20 baht per person fee to be paid upon entering this site.

Donations
If you found this page useful, please consider making a donation.
Trip Reports
Other Related Pages
Other Northern Thailand Birding Locations
Tags
birds, birding, thailand, nature, national parks