Pollution Levels Decrease
As of late March 2007 the pollution levels in northern Thailand have declined to more manageable levels, although a haze remains which, unfortunately is normal for this time of year. The improvement has been due to extreme actions taken by the Thai fire service and airforce, both of whom have put a lot of effort into putting out fires and preventing them from being started.
Authorities have taken the issue extremely seriously not least because of large numbers of tourisats staying away and warnings being issued by foreign embassies. Pollution in Chiang Mai Update.
Nick Upton, 1st April 2007.
About the Adverts
Air Pollution and the Dry Season in Chiang Mai
The pollution levels have become so severe that areas within four provinces; Nan, Chiang Mai, Chiang Rai and Mae Hong Son have been declared disaster zones due to the almost zero visibility on the 13th March 2007 and high numbers of people seeking medical assistance for respiratory illness.
Most people like to visit Thailand in the dry season for fear of their holiday being spoiled by rain. However, there is a good reason to steer clear of the north, particularly Chiang Mai, during the dry season due to the terrible air quality.
The dry season is when many hilltribes have traditionally cleared patches of forest for cultivation, but this is now exaccerbated by burning initiated by lowland communities and some agricultural buring. Additionally, many more, similar fires are burning in the surrounding countries, particularly in Laos and Myanmar as can be seen from the satelitte photograph in Tony Ball's blog.
The effect is to create an atmosphere that not only means that views are seriously impared, indeed in such conditions there is no view at all from the much-visited temple on Doi Suthep, but an atmosphere which can have serious effects upon health. For those with respiratory problems such as asthma it would be wise to completely stay away from Chiang Mai at this time of year (December to May) considering the dust particle index shown in the graph below, taken from the Thai government's Pollution Control Department's website: http://www.pcd.go.th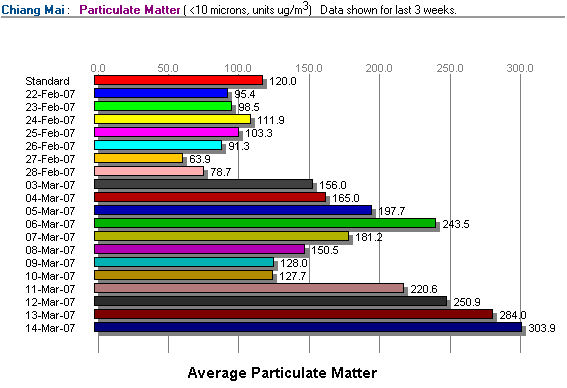 In fact, currently (14th March 2007) the pollution is so severe that at Huai Thung Thao public park in Mae Rim district joggers were reported to suffer from respiratory difficulties from the smoke. Even more alarmingly around 400 children and staff at Wiang Ping Children's Home have been suffering from eye irritation and coughing for several days. The map below shows air quality throughout Thailand, also from the Pollution Department's website: http://www.pcd.go.th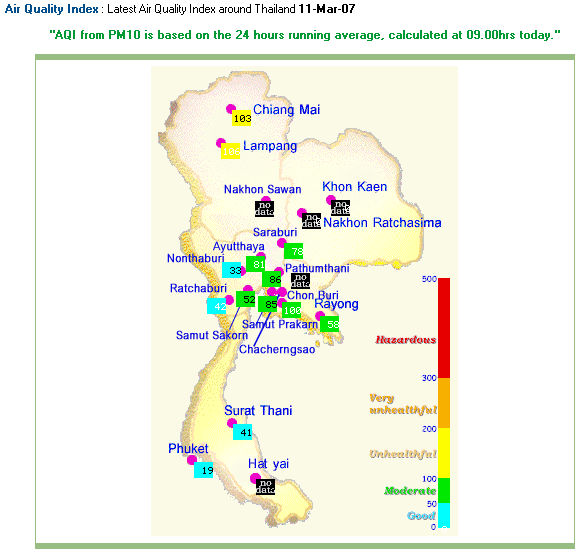 For those that find it difficult to read the text, the yellow colour indicated in the north of Thailand rates as air that is "Unhealthy". This is the Thai government's own appraisal of the situation.
This poisonous smog is largely not the result of traffic and industrial pollution as in Bangkok, but from small fires such as the one pictures below.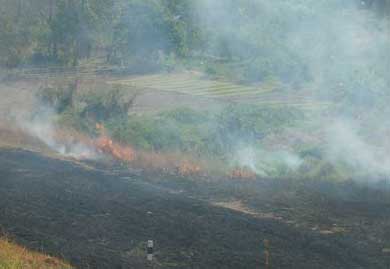 "Controlled" fire
Photo by Tony Ball
Many of these fires are illegally started, although the authorities do little or nothing to stop them, and in some cases these fires are actually lit by the authorities themselves; in effect the local officials are presiding over an air pollution crisis that will undoubtably result in the premature death of many Chiang Mai citizens through long-term respiratory illness.
The scale of the problem has become such that visibility is down to less than a kilometre in Mae Hong Son where flights in and out of the province have been delayed due to the risk that this smog poses both in terms of visibility and particle damage to engines: Flight Delays due to pollution.
Perhaps it would be wiser to visit Chiang Mai in the rainy season, a case which is well-presented here - Rainy Season vs Hot & Dry Season - or to stay away from Chiang Mai altogether - if tourist revenue was to significantly decrease, it is possible that local authorities would cease to shuffle papers in air-conditioned offices and take some action to improve this situation.
The current attitude taken by the local government is summed up by the photo below, which pays lip service to protecting the forest whilst a fire burns close by. The translation is; burn the forest - burn the nation.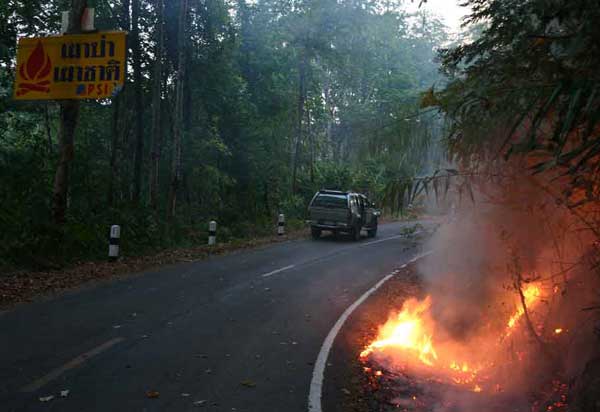 "Burn the forest - Burn the nation."
Photo by Tony Ball
Tony Ball has some interesting commentary about the pollution problem in Chiang Mai in his Birdwatcher's Diary blog: A Burning Question and Little Heron takes a Dive.
Ike Suriwong has pointed out that the pyromaniacs have made an impact in Phuket too: To Burn or Not to Burn.
Nick Upton, 14th March 2007 - created from information sent to me by a number of sources.
About the Adverts
Related pages: Fires and Flight Delays , Air Quality improves but Fires still burn