Many visitors to Khao Yai National Park opt to stay at the Juldis Khao Yai Resort and Spa, about 10 kilometres outside the park. The resort is a very comfortable and extremely well-kept place and has the bonus of being set amongst spacious grounds. Personally, I prefer to stay at either of the national park's camp grounds but many birders have managed to see species at the Juldis Khao Yai Resort and Spa that they found nowhere else on their birdwatching tour of Thailand.
For those that prefer the comfort of a bed over camping, then the Juldis resort is a good option; it is easy to find on the access road to Khao Yai, 17 kilometres from Pak Chong.
Although birders will want to get into the national park, there is some interesting birding around the grounds and along the road and Red-breasted Parakeet is regularly seen in the area.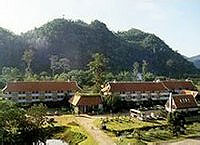 Juldis Khao Yai Resort and Spa