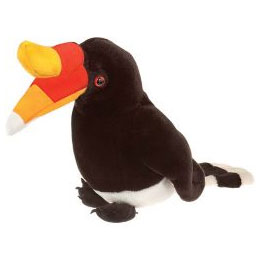 RSPB's Rhinoceros Hornbill toy
(Photo from RSPB)
This toy has been produced to raise funds for the Harapan Rainforest, a project by the RSPB, Birdlife International and Burung Indonesia to protect and restore an area of rainforest in Sumatra. All profits from the sale of this toy will go towards the Harapan Forest project, and the RSPB has other products specifically designed for raising funds for this area of rainforest. These products include a cuddly gibbon and a beautiful calendar.
Of course, the Rhinoceros Hornbill is also a Thai species and anyone lucky enough to have visited Hala-Bala is likely to have seen them. Although the Harapn reserve is not in Thailand, it does contain a large number of the same species and is also used by many migratory species that pass through Thailand, and in this small way it will contribute to bird conservation in Thailand.
The Harapan Rainforest is the first time the RSPB has been involved in a project of this magnitude in Southeast Asia and by supporting it, birdwatchers visiting the region may encourage further such projects and we may perhaps dream of something similar one day taking place in order to protect and rehabilitate Thai forests.