Anyone attempting to identify this species in the field will require good views and will need to pay attention to the wing structure. The most important characteristic in identifiaction is the rounded wing, combined with a minute outermost primary. Other differences that have been listed between Large-billed Reed Warbler and other similar Acrocephalus warblers is the longer hindclaw, long large bill with entirely pale (fleshy pink) lower mandible and blackish upper mandible, short blackish line behind and before the eye not extending onto the lores and short whitish supercilium ending at the back of the eye.
Sadly, this species is unlikely to appear on any more birdwatchers' Thai lists in the near future, and anyone preparing to travel to Laem Pak Bia with the specific purpose of seeing this species should be ready to be disappointed, although it does highlight the fact that birdwatching in the region can be very rewarding and almost anything can turn up.
Although Large-billed Reed Warbler has made it to number nine on this list, it should probably be relegated to the list of bird species most wanted on a Thai list but with virtually no chance of seeing, along with White-eyed River Martin, Storm's Stork and Malayan Peacock Pheasant.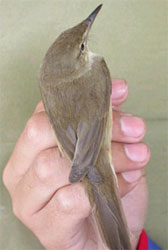 Large-billed Reed Warbler
(Photo by Philip D. Round)