Released Vulture Believed Dead
The Cinerous Vulture released from northern Thailand on the 10th May 2007 is believed dead after Dr Chaiyan Kasorndorkbua received a photo of the leg band and radio transmitter that had been fixed to the bird.
Just three weeks after its release in May the monitoring team lost contact with the bird and in July a soldier from the Shan State Army in Myanmar sent an e-mail to Dr Kasorndorkbua to tell him that a villager had shot the bird dead - this was followed up with the photos of the radio transmitter and leg band.
This fate, unfortunately, was all too predictable as many large bird species have been reduced to near extinction through hunting in Southeast Asia. The release site in northern Thailand was always considered risky for these reasons and was a last resort when the governments of South Korea and China refused permission for the bird to be transported through their countries fearing a risk from bird flu, despite veterinary reports stating that it was clear of the disease.
Despite the tragic ending to this story, both the Thai Raptor Group and Bird Conservation Society of Thailand remain upbeat about the rescue program saying that it did much to raise the profile of the plight of vultures in Asia.
Nick Upton, 22nd February 2007 based on information from International Herald Tribune.
Vultures Released from Northern Thailand
Because of problems with a short transfer in South Korea, the Cinereous Vulture was released, along with 4 Himalyan Griffon Vultures, on the 10th May on a mountain along the Thailand-Myanmar border, in Chiang Mai province.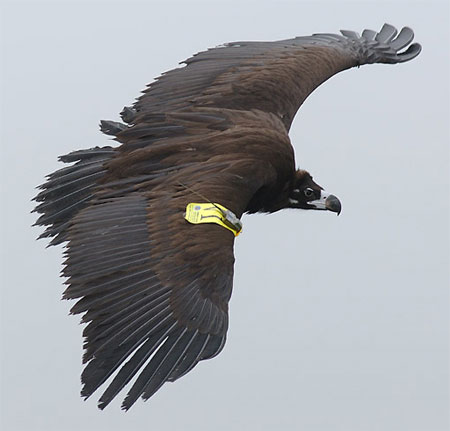 Immature Cinereous Vulture with wing tag and satelitte telemetry unit.
(Photo by Thai Raptor Group)
All the vultures have a yellow-coloured wing tag. The Cinereous Vulture is tagged with V1 label on its right wing as well as a satellite telemetry unit. The Himalayan Griffons are tagged with V4, V5, V6 marks and V7 mark on their left wings.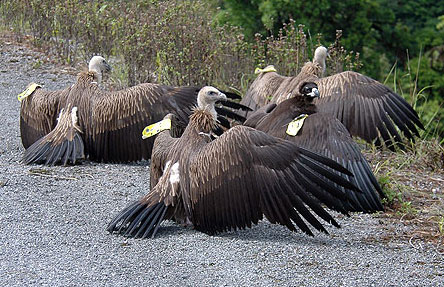 Three Himalayan Griffons and Immature Cinereous Vultures sunning themsleves.
(Photo by Thai Raptor Group)
Chaiyan Kasorndorkbua of the Thai Raptor Group and Kasetsart University's Faculty of Veterinary Medicine would like to urge birders who may, in future, visit China, Tibet, Mongolia or other countries of the far East and Oriental region to be aware of these wing-tagged vultures; sightings of the released vultures would be most gratefully received. Please submit sightings of any of them with the number of wing tag (if visible) to fvetchk(at)ku.ac.th or trogon(at)gmail.com.
Further pictures of the vultures, their rehabilitation facilities and release can be seen on the Thai Raptor Group's forum.
Video clips about the release can be seen here,
http://edition.cnn.com/video/player/player.html?url=/video/tech/2007/05/11/rivers.thailand.vultures.ap and here, http://video.google.com/videoplay?docid=7563781591723863024
The release operation is part of Fly the Vulture Home Project, which is the cooperation of Bird Conservation Society of Thailand (BCST), Department of National Park, Wildlife and Plant Conservation, Kasetsart University's Faculty of Veterinary Medicine, Mongolia's Wildlife Science and Conservation Center and Thai Raptor Group. Singha Corporation (Boonrawd Brewery Co.Ltd.) provided the finance for the satellite telemetry, Thai Airways provided air travel for a Mongolian vulture expert, the Royal Thai Air Force provided air travel of the vultures to the release site and the people of Thailand generously donated to the project.
From information posted by Chaiyan Kasorndorkbua on the Thai Raptor Group website.
About the Adverts
Vulture Rehabilitation and Release Project

Photo by Faculty of Veterinary Medicine, Kasetsart University

A Cinereous Vulture Aegypius monachus was found exhausted in Chantaburi province, South-east Thailand, and was initially cared for by Miss Iola Veal. On 3rd January, 2007, Miss Veal contacted Mr. Peter Ericsson, a Swedish birder, in order to arrange for professional assistance in caring for the vulture. Dr. Chaiyan Kasorndorkbua, Faculty of Veterinary Medicine, Kasetsart University was contacted and on 5th January it was relocated to be under veterinary care by the faculty's avian veterinarian team in Kasetsart University Wild Bird Care Unit.

The bird (a juvenile) was determined to be free of any major ailments, other than suffering from emaciation and is currently gaining weight and attempting to fly.

This is as a result of the efforts of the "Fly the Vulture Home Fund" comprising Bird Conservation Society of Thailand, Kasetsart University Faculty of Veterinary Medicine, Thai Ecotourism and Adventure Travel Association and Thai Raptor Group who are working to prepare the bird for release into the wild.
It is hoped that the bird can be released in Mongolia where it will be able to associate with others of its species. If financial support cannot be raised for release in Mongolia, it is proposed to release the bird from Doi Lang, Chiang Mai province, in northern Thailand.
The story of this bird has created a considerable amount of public interest in Thailand and the name "Anakin Skywalker" has affectionately been given to this individual. It is hoped that the publicity generated by this bird can be used to go some way towards changing the negative view that people in the region have of large birds such as vultures.
Nick Upton, 28th March, 2007. Compiled from "Fly the Vulture Home: Rehabilitation and Release Program for a Cinereous Vulture in Thailand"
About the Adverts