Khao Pra Bang Khram (Khao Nor Chu Chi)
Introduction
Khao Pra Bang Khram Wildlife Sanctuary, better known as Khao Nor Chu Chi (KNC), covers 183 square kilometres of forest in Krabi (pronounced Gra Bee) province. Until recently this was the only known site still occupied by Gurney's Pitta. Last year, however, it was rediscovered at a number of sites in southern Myanmar (Burma) but KNC remains the only accessible place to see this species, and many other lowland specialities still persist here too.

There are many trails at KNC (although many are in a very overgrown state) providing opportunities to see both forest edge species and birds of the forest interior and a choice between long and short routes. The crystal pool can be a nice place to relax and cool down (and watch for raptors), but it can get a bit crowded with both foreign and Thai tourists.


Khao Nor Chu Chi
(Photo by David Lewis)
Birding can be slow and frustrating here at times; I have personally walked for more than an hour without identifying a single species, but the longer you stay, the more you will see and when you look back on your list it will contain a number of excellent and seldom-seen species!
About Google adverts
Birding Highlights
Gurney's Pitta is THE bird to see at Khao Nor Chu Chi; until recently it was the only place in the world it was known to exist and it remains the most realistic chance for most birders to see the species.

However, be sure not to spend your whole time sitting in a muddy puddle on U-trail waiting for Gurney's; there are many other great birds to see here too. Many species of Babbler can be seen here which present the birdwatcher with a rewarding identification challenge; many species of Bulbul, Malkoha and Flycatcher can commonly bee seen at KNC too.

Many Southern specialities are still present at KNC, but not common; Giant Pitta, Wallace's Hawk Eagle, Rufous-collared Kingfisher, Crested Jay and White-crowned Hornbill can all be found, but only by a lucky few.


Green Broadbill
(Photo by Suppalak Klabdee)

Gurney's Pitta
(Photo by Suppalak Klabdee)

Blue-winged Pitta is frequently seen in and around KNC as is Black-thighed Falconet which can be found perched upon bare tree tops and the loud call of Black Magpie is a feature of the early morning at KNC.

Many Broadbills can also be found here, and there can be few birds families with so many impressive species. Green Broadbill is very common here and many people find Black-and-yellow Broadbill too. Black-and-red and Banded Broadbills are also present but not so often seen.

Birding at KNC can be difficult at times but with so many fantastic species to find it is well worth the effort.
Click here for a checklist of the birds of KNC
| | | |
| --- | --- | --- |
| | | Bird Tours : Check the suggested itineraries for ideas on creating a tailor-made birdwatching trip to Thailand: Thailand bird tours. |
Fabulous, high quality giclee prints of Gurney's Pitta, painted by Jan Wilczur from field sketches taken at Khao Nor Chu Chi are available for £35 plus postage and packaging.

See Jan's wonderful paintings as well as a short biography of the artist and information on the prints: Jan Wilczur's Bird Art.
Travel Information
Getting to KNC is almost always done via Krabi. Krabi is a very popular tourist destination so that getting there isn't a problem. If coming from Bangkok by bus I would recommend taking one to Surat Thani from the Southern bus terminal and then taking an air conditioned minibus to Krabi. Avoid a bus going to Krabi via the West coast and Phuket as the terrain is steep and the roads small, making for a lengthy journey. There are also regular buses from Hat Yai if arriving from Malaysia.
It is possible to travel from Bangkok to Surat Thani by train, from Hua Lompong station, and then again by taking a minibus to Krabi; I'm told this is a pleasant way of making the trip, although, as always, the train is slower than the bus.

The most convenient, but most expensive, method of arrival is by plane. Krabi has a small airport about 10 kilometres from the town, and there are daily flights from Bangkok from about 3000 baht return. An increasing number of budget airlines operate in Thailand: Cheap Flights.

From Krabi to KNC isn't particularly difficult either; for anyone driving themselves it takes about one hour from Krabi town centre. Simply take the main route south, towards Trang and turn left at the main crossroads as one enters Khlong Thom; after this take the first right hand turn, only about 100 metres along the road. Continue for 7 kilometres until seeing a sign for the Crystal/Emerald Pool where one should turn right. This road is now surfaced all the way to the Wildlife Sanctuary entrance, but the Wildlife Sanctuary HQ will be seen on the right after about 6 kilomtres; a few hundred metres later, the Morakot resort appears on the left.
This journey is easy to negotiate, however, if coming from Krabi in the dark, early in the morning, the possibility of missing some of the turnings is high. I would recommend driving the route in daylight before trying it in the dark.
The easiest way to get to KNC is to take a taxi from Krabi; this can be done for between 700 to 1000 baht one way. If staying at the Morakot resort, the girls here will arrange a taxi back if you ask.
For those on a smaller budget it is still easy to travel by bus. From Krabi bus station get on any bus to Trang and say that you want to get off at Khlong Thom (pronounced Klong Tom; don't ask why it isn't written like this anyway, it's a long story), the price is in the region of 30-40 baht. At the crossroads at Khlong Thom there are usually some motorcycle taxis which will take you to the Morakot resort for about 100 baht, this journey can be quite exciting! Once again the girls at the Morakot will arrange transport out for you if you ask politely.
About Google adverts
Finding Birds
An excellent feature at KNC is that there is an extensive network of trails to bird along within easy reach of the village, so if you come here without transport it won't hamper your birdwatching much. Be prepared to spend a lot of time on the trails in order to see the best birds; birdwatching at this location can be exceptionally slow and frustrating, although I have been told that in June bird activity is very high and Gurney's Pitta is "easy" to see. Birders who have used taped calls to draw birds towards them seem to have a good level of success; however, the use of tapes to lure in Gurney's is highly inadvisable due to the disturbance it causes. With this in mind it is difficult to see how this practice is condonable for any scarce species; many of which are at KNC.
For most, Gurney's Pitta is the main reason for visiting KNC, and most people eventually obtain good sightings on U-trail after getting to grips with the call and Banded Pitta is frequently seen by birders whilst searching for Gurney's.
Green Broadbill is a very common bird here and can be found in secondary and primary forest, but can be tricky to see from March to June when they are not calling.
When bamboo is seeding it is a good strategy to wait for Pin-tailed Parrotfinch to feed, and fruiting trees are always good for Malkohas and Bulbuls.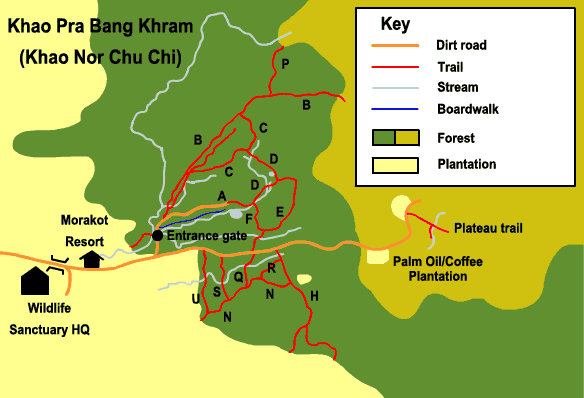 The many trails at KNC provide plenty of opportunity to find elusive forest birds;
U Trail : This seems to be everyone's favourite Gurney's Pitta stake-out, and can get quite congested with birders at peak times (although this is restricted to a few weeks in late April and early May). My philosophy was always to find Gurney's on another trail without resorting to sitting beside a gulley on U trail, however, after failing on three occasions I eventually had excellent views of a male in a gulley at around U 30, so from this point of view it would seem that this trail offers the best chance of seeing Gurney's Pitta quickly. The trail is very narrow and overgrown, with the secondary forest being extremely difficult to see through; birding this trail can produce very few birds. At several points along this trail the encroachment is alarmingly close, but Giant Pitta has turned up in the gulleys along this trail.
H Trail : This trail is wider than most, with the occasional motorbike along it. Forest edge species are easily encountered along H trail and many more species will be seen here than other trails at KNC although perhaps less of them will be the "target birds". There are many small side trails and gulleys to investigate along here which will provide encounters with species such as Ferruginous Babbler, Dark-throated Oriole, Black-capped Babbler and Rufous-winged Philentoma. In the past I have seen Banded Pitta, Wallace's Hawk Eagle, Large Wren Babbler, Black-and-red Broadbill and Bay Owl by going just a few meters into the forest from this trail and Brown Wood Owl has been found by others.
At the junction with the main dirt road there is a large stand of bamboo where Pin-tailed Parrotfinch is often seen in the company of White-rumped Munias.
Oil Palm Plantation/Old Coffee Plantation : This has been a popular location to go to at dusk or dawn to find Javan Frogmouth, however, I'm not sure if there have been any sightings in the last few years. It is a little far to walk from the Morakot resort, so try and arrange a lift to this area if you wish to try your luck. It isn't unusual to arrive here to find other birders with flashlights, playing the rather unusual call of this bird. People have often been successful in seeing the Frogmouth and various Nightjars and Owls into the bargain, but the latest reports I have are that the Frogmouths were absent and no Owls were calling; Nightjars can be seen pretty much anywhere near KNC.
Plateau Trail : One needs transport of some sort to get to this trail, or be prepared to walk a long way in hot conditions. Many "good" birds are seen in this region including Banded Kingfisher, Dusky Broadbill and White-crowned Hornbill. Not so many visitors get up here so it is an area worth exploring.
A Trail : This is nothing more than a jeep trail leading to the Emerald Pool and can be quite crowded with day-trippers at times; it is best to get off of this trail as soon as possible. One will only be charged the 200 baht (400 baht from 15/09/06) to enter the reserve if going through the checkpoint at the entrance to this trail. Although I don't agree with the policy of charging foreigners ten times the price of Thais, it does seem that here at least the money does go some way towards paying for increased protection.
Facilities
About Google adverts

Morakot Resort
(Photo by David Lewis)

One of the best things about a stay at KNC is the availability of good food and accommodation. Most birdwatchers stay at the Morakot resort, but there are other options if this popular venue is full.

The Morakot resort has 5 bungalows, with showers and fans, and some have been installed with air-conditioning. On my last visit (March 2004) the charge was 450 baht per night including breakfast which the girls here will provide before dawn. If the bungalows are full, excellent tents can be hired and pitched in the gardens, with air matresses, pillows and blankets for about 150 baht. If you have your own tent this can also be set up in the gardens for a small fee. All campers have the use of two clean showers and toilets.
The two young women that run the resort are both friendly and speak a reasonable amount of English. The food is good, although the menu isn't that extensive and there are soft drinks and beer for sale too. The girls understand birders well and will cook breakfast before sunrise and/or pack it to be taken on the trails; they will do the same with lunch if you ask for it. One of the girls is a keen birder and can provide advice on where to look as can the birders' log book which they keep behind the counter- just ask if you want to read it or add to it. In addition there are a number of birding publications available to read and maps of the trail network.
To contact the Morakot resort in advance email: Pittagurney@yahoo.com
Further along the road, just before the checkpoint there are a couple of bamboo bungalows, constructed in early 2003, which are about 350 baht per night. The people here are very friendly and cook good Thai food. The main advantage of this place is that it is very close to the remaining forest. If you arrive at KNC during a really busy period, possibly on a Thai holiday, then all the accommodation might be full. A friend of mine managed to smile his way into being put up at a villager's place once when there was nowhere else, so this is a possibility should all else fail. Many birders also stay in Krabi and drive to KNC every day; this has the advantage of more luxurious facilities but the disadvantage is a really early wake-up call to get to the forest in the morning.
The village is very small, but there are a number of small shops selling snacks and drinks. Don't forget to pay a visit to these places so that everyone in the village gets the benefit of visitors' money and you get the chance to meet the friendly local people. The shop about 200m back towards Krabi from the Morakot resort has particularly friendly people, it's a good place to stop and have a beer and a snack and the woman there has a mobile phone for use if you stand on a hummock across the road and pay her a small fee. About 100m towards the forest from the Morakot resort, on the left, there is a house with a large yard. This is the village laundry! At least Doug Judell and I have used it when on long stays. No English is spoken here, but Doug speaks almost no Thai and managed to arrange it, so try a smile and show the dirty clothes and I'm sure they'll get the idea. You will get surprisingly clean, fragrant and pressed clothes for next to nothing.
Finally, there are the food stalls near the checkpoint at the forest entrance. Again, people here are friendly and the food is good and very cheap; they are Muslims, so don't bother asking for pork!

Donations
If you found this page useful, please consider making a donation.
Other Related Pages
Trip Reports
by Peter Ericsson

by Vincent van der Spek

by Petter Zahl Marki

by Mark Piazzi & Stijn De Win

by Bob & Jessica Allen
Tags
birds, birding, thailand, nature, national parks