Mu Ko Surin (Surin Islands)
Introduction
Mu Ko Surin Marine National Park, in Pang Nga province, consists of two main islands, three small islets and a number of rocky outcrops in the Andaman sea, a few kilometres south of the border with Myanmar. These granite islands are mostly covered in lush tropical evergreen forest, with small areas of beach forest and mangrove. There are also many beautiful coral reefs, making these islands a great place for snorkelling and diving. The National Park covers 135 square kilometres and is about 60 kilometres from the mainland.. This is a wonderful place to stop and relax, to explore the forest, bays and coral reefs and make the most of cheap and varied snorkelling trips. Mu Ko Surin continues to be a great place for finding species previously unknown to the islands, including some rather scarce ones.

The best time to visit the National Park is between December and April, when the weather is fine and the sea is clear, making for good visibility for snorkelling and safer travel. On arrival in Mu Ko Surin the colours make an immediate impact; the forest is a dense and unspoilt patchwork of green, contrasting with swathes of white sand and amazingly blue waters.


Brahminy Kite
(Photo by Suppalak Klabdee)
Although these islands were affected by the tsunami of 26th December 2004 the National Park is operational again and receiving visitors and it seems that the infrastructure here is not significantly different to how it was previously. Mu Ko Surin Marine National Park is closed seasonally, between May and November due to poor sea conditions.
About Google adverts
Birding Highlights
Ko Surin is just about the only place in Thailand where Beach Thick-knee can be found. Apart from that, the forests of the Surin islands support a fairly rich avifauna with Green Imperial Pigeons being very abundant and Orange-breasted Pigeon fairly common. Large Green Pigeon is also often encountered on the Surin Islands, which is a scarce bird in Thailand. White-bellied Sea Eagle and Brahminy Kite are common birds here. In addition, a number of Tern species and possibly Frigatebirds can be seen on the crossing from Kuraburi.


Beach Thick-knee
(Photos by Peter Ericsson)
Click here for a checklist of the birds of Mu Ko Surin
| | | |
| --- | --- | --- |
| | | Bird Tours : Check the suggested itineraries for ideas on creating a tailor-made birdwatching trip to Thailand: Thailand bird tours. |
Travel Information

To get to the Surin islands, one must get to the small town of Kuraburi (pronounced KooRa BooRee). If arriving by car take the turning off the main Takua Pa (TakooWa Par) to Ranong road, just north of Kuraburi, to the park headquarters. It is sign posted in English making it easy to find. The headquaters is a kilometre or two from the main road, right next to the pier. It is possible to leave the car here for the duration of your stay.
If traveling by bus from the south, any bus from Phuket to Ranong will go via Kuraburi. It is probably best to get off in the town and get a motrocycle taxi to the park headquarters for about 20-30 baht. If coming from Bangkok the quickest way is to come via Surat Thani (SooRat TarNee) and Takua Pa and get off the bus at Kuraburi. It is possible to go via Ranong, but the route is very winding and slow and can be quite frightening with the wrong bus driver! If approaching by car from this direction there are many places along the coast worth exploring for birds and peaceful hideaways.
From park headquarters at Kuraburi one must book accomodation and a boat. There are a number of companies in small shops across the road that deal with this, boats leave for the islands in the morning and return to the mainland in the afternoon; slow boats cost about 600 baht per person return in 2004 and took 3-4 hours, fast boats took half the time and cost considerably more.
Once on Ko Surin Nuea most of the forest birds can be seen by walking the trail between the two campsties, but others can be seen by exploring the rocky coasts or by hiring boats to gain access to secluded beaches and the other islands.
About Google adverts
Finding Birds
On Ko Surin Nuea there is the possiblity of finding a high number of birds considering the quality and amount of forest habitat available. Taking into account how underwatched it is, there is plenty of potential finding species to add to the list.
Nicobar Pigeons are present on the island although not often seen. I would imagine the best chance of seeing one would be to explore the low-lying forest to the west of campsite 2, although there are no trails in this area, alternatively find a guide to help you look for them.
Green Imperial Pigeons were ubiquitous on the island when I was there in March 2004, although more easily heard than seen. However, such was their number that eventually good views are assured.
Large Green Pigeons are another speciality of Ko Surin Nuea, being recorded by a number of observers over a number of visits.
White-bellied Sea Eagles can be seen anywhere around the National Park, but are particularly easily seen from boats while snorkelling.
Most birders come to Ko Surin in hope of seeing Beach Thick-knee. I was unfortunate on my visit and didn't see any, but the boatmen took me to Ao Sai-En searching for one and they have been regularly spotted here.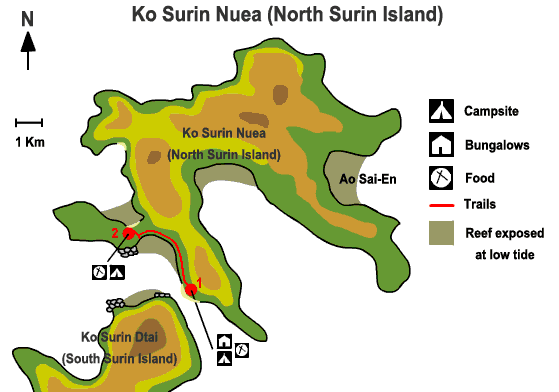 There are a few short trails to follow on Ko Surin Nuea;
Trail 1: This surprisingly long trail runs for about 3 kilomtres from the headquarters at campsite 1to trail 2. It takes the walker through lush forest along the steep side of the island. A number of birds can be seen along this trail in the early morning, including Pigeons in fruiting trees and Pacific Reef Egrets on the reef at low tide. It is quite a good idea to take lunch at the restaurant at the campsite that you didn't start from and do some snorkelling there to relax after the sweaty walk through the forest. If you don't fancy the walk back you can get a boat from campsite 1 to the start of trail 2, or the other way around depending on where you started.

Abbott's Babbler
(Photo by Suppalak Klabdee)
Trail 2: This short trail leads from campsite 2 to trail 1, running through some low-lying forest. On my visit in March 2004 many birds could be found in this area, including Abbott's Babbler, White-rumped Shama and Hill Myna. The small beach where trails 1 and 2 meet was a particularly good place to see birds when I was there. Fruiting trees contained Orange-breasted Green Pigeon, Emerald Dove and large numbers of Green Imperial Pigeon which was common throughout the island. In the small patch of mangroves here I found 3 Large Green Pigeons on two occasions; a bird seldom seen in Thailand anywhere away from Ko Surin. For those with more time and inclination it would be worth exploring the small side trails that originate from this track, particularly during migratory periods.
Campsite 2: The area to the west of this campsite is rather low-lying and by poking around in it I found Green Imperial Pigeon, Dollarbird and Abbott's Babbler. At the back of the toilets (birding in Thai National parks seems to involve a lot of time hanging around toilets!) there were damp patches where Grey Wagtails were foraging with White-rumped Shamas. Greater Racket-tailed Drongos and Asian Koels were extremely noisy at this campsite and a Large-billed Crow stealing food and admiring itself in the toilet mirrors was very entertaining.
Facilities
About Google adverts
It is only possible to stay overnight on Ko Surin Nuea; the North Island. There are two areas to stay; the Headquarters at Ao Chong Kaad , where there are bungalows and camping arrangements, and at Ao Mai Ngam where it is camping only. Both these locations have excellent food for sale at reasonable prices. Individual dishes can be ordered at the restaurants, but the daily set menus are fantastic value for money; a seafood banquet for a few hundred baht! A full range of drinks is also available, so that if you manage to find a Thick-knee you can celebrate with a beer......or two!
Headquarters at Ao Chong Kaad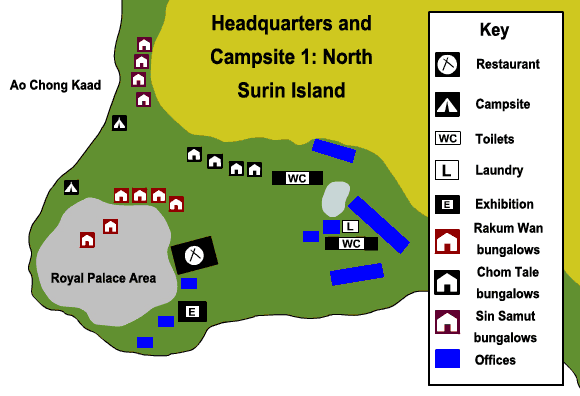 This is where the headquarters are located, as well as a small exhibition centre and the Royal Palace. This is also the main drop-off point for the boats coming from Kuraburi, so, although the scenery and beaches here are beautiful it can get a little busy here. Although I haven't stayed here myself, the campsite looked ridiculously cramped, with tents inches from the water; so unless opting for bungalow accommodation I would recommend taking a small boat to the next area where it is a little quieter. The price list I obtained did not seem to correlate exactly to what is implied by this map but is reproduced below.
Ao Mai Ngam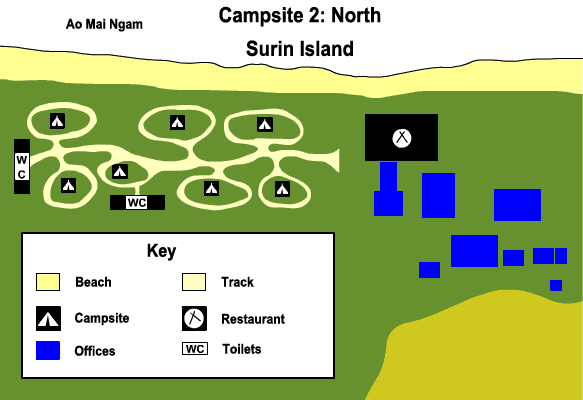 Most people are happy to camp in the pre-pitched tents close to the beach. These are quite sizeable and the 400 baht per night fee seems a bit much, but does include bedding rental which is provided clean every day. It is not possible to pitch your own tent on this island. Toilets and showers are plentiful, spacious and clean considering where you are. A short walk through the forest brings you to the quieter Had Lek (small beach) where the same camping options are available, although food is not. This would mean walking a few hundred metres in the dark to eat in the evening.
The following table lists the accommodation options available at Mu Ko Surin which are supposed to be booked before arrival at the National Park Department in Bangkok; 61 Phahonyothin Road, Chatuchak, Bangkok 10900. If your Thai isn't great I'm not sure how easy this would be, but the number to call is; 02 579 7223 or try booking through the internet at www.dnp.go.th
Most people who want to camp just book tents at the park headquarters on the mainland at Kuraburi.
Accomodation Price List
Accommodation
Name
No of rooms
No of persons
Price
(baht per night)
Island

Surin 112/1
Surin 112/2
Surin 113/1
Surin 113/2
Surin 114/1
Surin 114/2
Surin 115/1
Surin 115/2
Surin 116/1
Surin 116/2
Surin 117/1
Surin 117/2
Surin 118/1
Surin 118/2
Surin 119/1
Surin 119/2
Surin 120/1
Surin 120/2
Pre-pitched Tent
Own Tent

1
1
1
1
1
1
1
1
1
1
1
1
1
1
1
1
1
1
-
-

2
2
2
2
2
2
2
2
2
2
2
2
2
2
2
2
2
2
-
-

2000
2000
2000
2000
2000
2000
2000
2000
2000
2000
2000
2000
2000
2000
2000
2000
2000
2000
400
40/person

Surin Nuea
Surin Nuea
Surin Nuea
Surin Nuea
Surin Nuea
Surin Nuea
Surin Nuea
Surin Nuea
Surin Nuea
Surin Nuea
Surin Nuea
Surin Nuea
Surin Nuea
Surin Nuea
Surin Nuea
Surin Nuea
Surin Nuea
Surin Nuea
Surin Nuea
Surin Nuea
While visiting the Surin Islands it is worth taking a snorkelling trip. These leave every day and are ludicrously cheap at 50 baht per person for a morning or afternoon, visiting alternating locations each day so that one could go for the morning and afternoon two days in a row and not go to the same location twice. Snorkelling equipment is available to hire on the island at low prices.

Donations
If you found this page useful, please consider making a donation.
Other Related Pages
Other Southern Thailand Birding Locations
Jan Wilczur's Bird Art: Gurney's Pitta, Banded Pitta & Rufous-collared Kingfisher
Useful Books
Thailand's Islands and Beaches
Tags
birds, birding, thailand, nature, national parks