Khao Sok National Park
Introduction
Khao Sok National Park, in Surat Thani province, is well-visited by tourists but rather underwatched by birders. This is quite surprising given the large area of quality habitat here that extends into the numerous Wildlife Sanctuaries that border this National Park.

Unfortunately there are only 2 proper trails from park HQ (a total of 11km) and walking these back and forth for a few days can get a little dull. However, spending time on these trails will be rewarded with some exciting species and add to the relatively little that is known about the avifauna of this park as well as providing the opportunity to experience some excellent forest.

There are two access points to Khao Sok National park; HQ and Chieo Lan Dam, but here I will deal solely with the HQ region which is most commonly visited.


Stream; Khao Sok
(Photo by Rob ter Ellen)
About Google adverts
Birding Highlights

Male Blue-banded Kingfisher
(Photo by Suppalak Klabdee)

Loads of southern specialities occur in Khao Sok National Park and if more birders were to visit there would be a huge list of highlights. This is just about the only place in Thailand to see both Lesser and Grey-headed Fish Eagle, and Banded Pitta is a fabulously beautiful species which appears far more common here than anywhere else. With such a large area of quality habitat it is inevitable that Hornbills can be found with Great, Helmeted and White-crowned the most frequently seen.

A number of healthy rivers in Khao Sok are good places to see unusual species with both Blue-banded and Rufous-collared Kingfisher present and readily seen. Chestnut-naped Forktail is another sought-after species that is associated with water here and can be found with patience.
Throughout the forest other exciting birds can be spotted with White-browed Piculet, Brown Barbet, Black-and-yellow Broadbill and a good number of Babblers often making an appearance for those who make the effort. Great Argus is frequently heard on the hill ridges but few are lucky enough to see this species, however, for those determined enough there seems to be a good population of this bird here.
Click here for a checklist of the birds of Khao Sok
| | | |
| --- | --- | --- |
| | | Bird Tours : Check the suggested itineraries for ideas on creating a tailor-made birdwatching trip to Thailand: Thailand bird tours. |
Travel Information
Khao Sok National Park is one of the easiest national parks to get to in Thailand. It is frequently visited by tourists from the southern beach resorts and many places from Khao Lak, Krabi and Phuket run minibuses to the accommodation just outside the park.

Getting there by scheduled public transport is also an easy option. From Bangkok take a bus (from the southern bus terminal) or train to Surat Thani. From here a minibus to Khao Sok or any bus to Takua Pa can be taken; the buses will stop at Km 109 where people from various bungalows at Khao Sok wait to collect visitors. From Phuket take a bus to Takua Pa and then another heading to Surat Thani and get off at Km 109. From the main road to the accommodation is a few kilometres so it is best to take a ride with one of the bungalow operators.

When leaving Khao Sok, simply stand by the side of the road and flag down any passing bus going either to Surat Thani or Takua Pa, depending on which way you are going. Some songtaews also make these journeys and will also stop for passengers. You might even get lucky and be given a lift if you hitch-hike.
About Google adverts
Finding Birds
Birding at Khao Sok is pretty much limited to just two forest trails. I have tried birding along the main road but it never really goes into any good habitat and only fairly common open-country birds are usually seen. For the best opportunity to find exciting forest birds, time should be spent on the trails.
Wide Trail : This easy-to-follow trail is a jeep track for the first few kilometres before becoming much narrower. This trail provides most of the best opportunities to find some of the most exciting species at Khao Sok. At many places this trail provides good views of the nearby river where Hornbills can sometimes be observed flying from one side to the other.
At point 1, Rufous-collared Kingfisher can often be heard calling in the morning and with patience can be found. A short way along the trail at point 2, Banded Kingfisher often performs the same trick and at point 3 there is a clump of bamboo where Bamboo Woodpecker is frequently seen along with noisy Piculets. At point 4, there is a viewpoint for watching for Hornbills and Fish Eagles which are fairly regular here. A small bridge at point 5 crosses a small creek where Blue-banded Kingfisher has been seen.
Shortly after the disused campsite the trail becomes narrower and at first goes through a fairly flat piece of forest. It is here, at point 6, where Banded Pitta is frequently found and a splendid male once gave me the best views that anyone could ask for. The trail goes up and down for a while after this and crosses a small stream where Chestnut-naped Forktail has been observed and I saw a pair of Blue-banded Kingfishers in 2004.
Narrow Trail : This trail heads to a waterfall through some excellent forest. The forest is very thick in places and seeing birds can be tricky although finding leeches, at least in October, is very easy indeed!

Babblers are numerous along this trail with Black-capped, Spot-necked and Chestnut-winged Babblers among the more attractive of this group likey to be seen. Black-backed Kingfisher can often be heard calling from the numerous small creeks along here, but getting a good view of one can be much harder. A bird which virtually nobody sees but which appears numerous is often heard calling from the hill ridges along this river valley: Great Argus. For those wishing to track down this species, this area is likely to be the best place in Thailand to try.

Accommodation Area : The land around the accommodation is mostly under agriculture and as such is not a great place for birding. At night, however, it may be a good place to look for owls.


Moustached Babbler
(Photo by Peter Ericsson)
Facilities
About Google adverts
With so many places to stay it is very difficult to recommend anywhere in particular. I have stayed in a few different places and they have all been fairly cheap, friendly and clean. Most places have small restaurants attached to them and food is usually good quality and inexpensive. Some of the resorts here are quite upmarket and only deal with pre-booked tours, but there is enough accommodation to be able to simply turn up and find somewhere. The map below gives an indication of the accommodation layout at Khao Sok .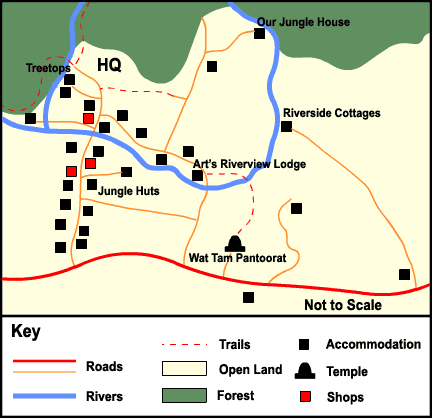 There are a few small shops that sell snacks, drinks and souvenirs as well as a couple of internet cafes. Massage is available for a reasonable price and all bungalows can organise rafting, elephant riding, forest walks and cayaking trips to Chieo Lan lake. Transport to almost anywhere can also be arranged if asked for.
There are National Park bungalows, but the dubious quality of these would suggest that it is wiser to stay outside the park, although camping will mean that the daily entrance fee of 200 baht would only have to be paid once. The cafeteria inside park HQ seems to be almost never open, but with plenty of places to eat outside of the park, this shouldn't be a problem.

Donations
If you found this page useful, please consider making a donation.
Other Related Pages
Other Southern Thailand Birding Locations
Jan Wilczur's Bird Art: Gurney's Pitta, Banded Pitta & Rufous-collared Kingfisher
Photo Galleries
| | | | |
| --- | --- | --- | --- |
| River & Forest | Pantoorat Mountain | Forest River | Trail at Khao Sok |
| Huge Tree Roots | | | |
Trip Reports
by Vincent van der Spek

by Charles Davies

by Petter Zahl Marki

by Mark Piazzi & Stijn De Win

by Bjorn Anderson

by Bob & Jessica Allen

by Dominic Le Croissette

by Nick Upton
Tags
birds, birding, thailand, nature, national parks