Khao Soi Dao Wildlife Sanctuary
Introduction

Stream, Khao Soi Dao
(Photo by Vincent van der Spek)

Khao Soi Dao Wildlife Sanctuary is part of the highest mountain range in south-eastern Thailand and forms a large wilderness area with the adjacent Khao Kitchakut National Park. As part of the Cardomom mountains, much of the avifauna found here is more closely related to that found in Cambodia than that of the rest of Thailand. Indeed, a few species can only be found in this region and a number of distinct subspecies are unique to this area as well.

Khao Soi Dao is in one of the wettest regions of the country and the lush forest found here is quite spectacular with one of the most picturesque waterfalls of any location in Thailand, with fabulous views over the rainforest from the top for those with the energy to climb up. This is a good place to go birding before or after a relaxing visit to the nearby Ko Chang, and an opportunity to get to an area of excellent habitat which is rarely visited by groups of birders. This wildlife sanctuary has a reasonable park infrastructure and a few good trails which give bird watchers the opportunity to find some very seldom seen species.
About Google adverts
Birding Highlights
Blue-rumped Pitta would have to be the pick of all the species occurring at Khao Soi Dao and indeed, in Thailand this species is restricted to this wildlife sanctuary and its immediate surroundings. Black-browed Fulvetta is another bird which is restricted to this part of Thailand as is the lewisi subspecies of Silver Pheasant.

Khao Soi Dao seems to be a consistently good place to see Needletails with White-throated Needletail recorded here fairly often, even though it is the rarest of Thailand's Needletail species. The secretive Malayan Night Heron is another bird which seems to pop up at Khao Soi Dao more often than it does in other places and a sighting of this species alone would be reason enough to visit the sanctuary. The quality of the forest at Khao Soi Dao is such that a very large number of forest species can be found. Pompadour Pigeon can sometimes be seen near headquarters and this is also a good place to get close views of Violet Cuckoo, Asian Barred Owlet and Dusky Broadbill.


Black-throated Sunbird
(Photo by Alister Benn)
Spending time in this Wildlife Sanctuary could reward birders with a long and exciting list of species as well as giving them the opportunity to add to the current checklist.
Click here for a checklist of the birds of Khao Soi Dao Wildlife Sanctuary
Birdwatching Trips:
if you need help organising a birdwatching trip to Thailand, take a look at the suggested itineraries for ideas on creating a tailor-made birdwatching trip and contact me for advice: Thailand bird tours.
Travel Information
Khao Soi Dao is easy to get to and is ideal for people using public transport. From Ekamai (Eastern) bus station on Sukhumvit Road in Bangkok a bus to Chantaburi will take around 5 hours. From the bus station in Chantaburi take any bus going north towards Sa Kaeo on highway number 317. At the 62nd kilometre marker there is a sign with "Khao Soi Dao Waterfall" written in English. Get off the bus here and walk the 4 kilometres to the Wildife Sanctuary or hitch a lift. There are a couple of small shops at this junction and it would be possible to arrange a lift to the Wildlife Sanctuary HQ from one of these. It is also possible (and perhaps advisable) to get off at the town of Soi Dao (just past the sanctuary turn off) and take a motorcycle taxi or tuk tuk to the HQ.

About 20 kms south of the turning for the HQ is a turning for Khao Soi Dao Dtai (South). Birders can camp here and climb the mountain, but it is not easy to find the trail and I've been told that the HQ and waterfall area is probably a better option for most birders. Details of this location are given in Charles Davies's trip report.
About Google adverts
Finding Birds
Just hanging around Headquarters will reveal plenty of interesting forest birds with Hill Myna, Pompadour Pigeon, Dusky Broadbill, Banded Broadbill and Large-tailed Nightjar all present on both occasions that I have visited the Wildlife Sanctuary. There are a few trails, however, which will get one further into the forest.
In order to see most of the regional highlights, it seems that it is necessary to get higher up the mountain than the HQ region and hiking uphill from the waterfall would be the best option; following the stream will reduce the chances of getting lost. In order to spend enough time at the right altitude for species such as Blue-rumped Pitta, Eastern Green Magpie and Siamese Partridge, rough camping would seem necessary.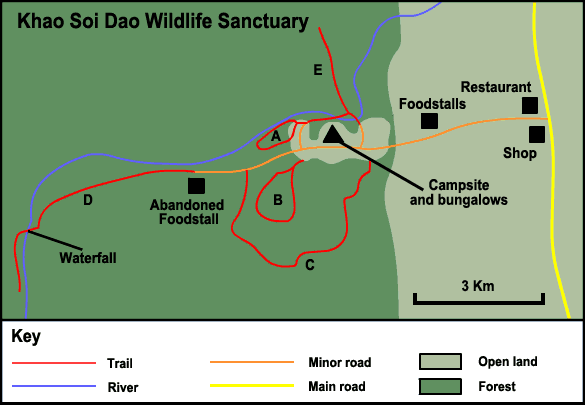 Campsite and bungalows : There is some excellent general birding around the campsite and bungalows where there is a small pond and some damp patches which seem to attract birds. A number of Flycatchers can be seen around here with Verditer Flycatcher often perched atop dead trees and Asian Brown, Yellow-rumped and Taiga (Red-throated) Flycatchers are often to be found in this area. Violet Cuckoo and Dusky Broadbill seem to be unusually frequent around here and the open aspect of the campsite is an ideal place to look for Needletail Swifts, with all three Thai species possible at various times of the year.
In the wet season Blue-winged Pitta is common in and around this area as are Banded Broadbill, Banded Kingfisher and many other breeding birds.
At dusk this is a good place to watch for Great Eared and Large-tailed Nightjars and rare species such as Malayan Night Heron and Javan Frogmouth have also been seen. A Spot-bellied Eagle Owl territory has been occupied for some time just beyond the HQ clearing in this region; listen for it at dusk, although apparently it can be quiet for long periods.

Little Spiderhunter
(Photo by Albert Noorlander)

Road to waterfall car park : Early in the morning this road is ideal for birders, although at weekends it can get a little busy later in the day with people heading to the waterfall; the gate is open for cars to use this road between 9am and 4pm. Banded Kingfisher is often heard and seen along this track and Green Pigeons frequently fly overhead. This can be an excellent place in the early morning and sightings of Oriental Pied, Great and Wreathed Hornbills attest to the quality of the forest here. Banded Broadbill and Orange-breasted Trogon are colourful and frequent additions to the trip list along this road and this is also a good place to watch butterflies. Asian Barred Owlet seems to frequent this area too.

Toilets are present where the road finishes and the trail begins but there is no food here so it is useful to take breakfast before birding the road and heading onto the waterfall. The road opens to vehicles at 9am and closes again at 4pm.
Trail A : A small loop which partly follows the river. Before the gate to the waterfall turn right and there is a large birdcage with some pheasants and ducks in it. Before the cage there is a small road to the left, follow this and you will come to a small house. Opposite this house is the entrance to the trail. In the winter this is a nice trail with good flocks of birds including Oriental Pied Hornbill. Orange-headed Thrush and Blue Whistling Thrush both occur along this trail but in the wet season there don't seem to be many birds.
Trail B : This trail is easy to find as the entrance is marked by a bridge. At the start (or end, depending on which side you start) you have to cross a small stream which can be strong during the summer. The halfway point on this trail is a nice viewpoint where raptors including Besra, Crested Serpent Eagle and Rufous-bellied Eagle have been seen. It is also an ideal place to watch for Needletails and Swallows.
Trail C : This long trail can be quite hard to find. Just after the main entrance there are some houses/offices at the left site. Behind the offices, in the left corner, is the entrance to this trail. This trail passes through an enormous tree and along here some good birds have been found including Red-headed Trogon, Orange-breasted Trogon, Silver Pheasant, Banded Kingfisher, Great Eared Nightjar (during daytime!) and Blue Pitta. It ends somewhere on the road to the waterfall.
Waterfall Trail (Trail D) : This takes birders through the forest and up to a wonderful waterfall. It is possible to cross the river at the bottom of the falls and then climb to the top for an excellent view. The forest is good for birds with Blue-rumped Pitta and Silver Pheasant being the specialities to look for. Beyond the waterfall one can climb to the mountain summit and look for Siamese Partridge. In the wet season there can be lots of annoying leeches in the vicinity of the waterfall so it is a good idea to bring leech socks!

Trail E : This trail crosses the river and forks into two long trails through the forest. I haven't explored them fully, but I'm told one eventually ascends Khao Soi Dao Neua and the other eventually emerges at the western boundary of the sanctuary; I once followed the trail for about 1 kilometre and saw a flock of Pompadour Pigeons feeding on a fruiting tree.

Birdwatching Trips To Khao Soi Dao:
If you have only a day or two for birding from Bangkok, Bang Pra is an

excellent location, coupled with a visit to Muang Boran Fishponds. At any time of year a good selection of colourful birds are present and in the dry season a whole range of migrants visit this location.

Contact me to arrange a trip and/or to discuss the best birdwatching options for you: nickupton@thaibirding.com
Facilities
Although accommodation can be arranged it must be done in advance and it is highly unlikely that you will be given a roof over your head if you just show up. For those that want to be right in the forest it is advisable to come prepared to camp at Khao Soi Dao. I have camped here, and to my knowledge it is essential to bring ones' own tent, but the campsite is conveniently placed and even during busy periods is not too crowded and there are toilets available.

A number of foodstalls 200 metres before HQ have a good range of cheap Thai food and a selection of drinks. There is also a small restaurant just to the left of the entrance gate as one goes into the wildlife sanctuary where the staff are helpful and cook tasty meals until about 6pm.

For those needing to stay in Chantaburi, there are a number of fairly decent hotels a short walk from the bus station.


Room at Soi Dao Garden Hotel
(Photo by Nick Upton)
However, a much more pleasant place to stay, if you have your own transport, is to stay at the Soi Dao Garden Hotel (08 4945 3638), a few kilometres away, which has pleasant, air-conditioned rooms with bathroom for 400 baht.

Their are signs for this hotel in Thai only but it is quite easy to find. At the northernmost point of the small town of Soi Dao there is a road which heads east. Take this road and a few hundred metres along it the built-up area finishes giving way to farmland. On the left is a small road with a lightpost and some signs for the hotel (in Thai only). Take this turning and continue up a short hill for another 300-400 metres and then a sign can be seen on the right, at the entrance to a dirt track; this is the entrance to the hotel. Drive along the dirt track for about 100 metres and the hotel is obvious.

If you cannot find this or it is full there are several other similar places in the area including 2 along the access road to Khao Soi Dao waterfall itself.

The small town of Soi Dao has lots of street food at night and a market during the day. Toasted sandwiches and coffee in the 7/11 makes a reasonable breakfast for those maing an early start.
Some Useful Books
Other Related Pages
Photo Galleries
| | | | | |
| --- | --- | --- | --- | --- |
| Wild Banana | Forest Tree | Forest Tree | Forest Pool | Stream |
| Soi Dao Waterfall | | | | |
| | | | | |
| --- | --- | --- | --- | --- |
| Straight Pierrot | Straight Pierrot | Dark Banded Bush Brown | Dark Banded Bush Brown | Knight |
| Knight | Banded Marquis | Banded Marquis | Common Plain Sailor | Common Plain Sailor |
| Common Bush Brown | Common Caerulean | Common Cruiser | Common Cruiser | Common Grass Yellow |
| Common Yeoman | Tonkin Prince | Common Lascar | Common Pierrot | Common Pierrot |
| Blue King Crow | Clipper | Clipper | Common Mormom | Dark Blue Tiger |
| Common Glassy Tiger | Common Glassy Tiger | Chocolate Tiger | Chocolate Demon | Pallid Faun |
| Unidentified Brown | Dark Glass Blue | Unidentified Blue | Unidenitifed Brown | Unidenitifed Brown |
| Great Evening Brown | Common Five Ring | Common Five Ring | | |
Birdwatching Trips:
Khao Soi Dao does not fit in well with long birdwatching itineraries due to its location, but it is a great place for a few days and an expedition up the mountain has the potential to find some seldom seen species: Eastern Green Magpie, Black-browed Fulvetta, Rufous-throated Fulvetta, Blue-rumped Pitta and Siamese Partridge..

Take a look at some suggested itineraries and contact me for more information: Thailand bird tours.
Trip Reports
Related Blog Entries
A Strange Place to Nest - posted 04/08/08
Donations
If you found this page useful, please consider making a donation.
Tags
birds, birding, thailand, nature, national parks