Nets were not being widely used, but at a few places they were being used to protect fish stocks from feeding birds and in other places they were more randomly stretched across ponds. The corpses of 3 Black Drongos, 1 White-browed Crake and 2 Pond Herons, 1 Greater painted Snipe and a large number of smaller and badly decomposed birds were noted in nets at the site.
Far more widespread, however, at this site, are the hooks which are suspended from long strings, stretching across many ponds. In the past this practcie was restricted to just a few ponds, but now this rather nasty threat to birds seems to have spread to almost every part of Muang Boran fishponds and there must be thousands of these deadly hooks waiting to catch birds unaware. From casual observations on the 8th March, it appears that Yellow and Cinnamon Biterns are particularly prone to capture in this method with corpses of these two species being notably more abundant than any other species, although a number of drongos and mynas also seem to fall foul of this obstacle.
Although artificially high numbers of birds are probably present because of the abundant food supply of fish, it is upsetting to see so many bird corpses at this site.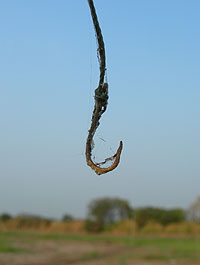 Bird-catching Hook
(Photo by Nick Upton)