Further to this, Dowroong Danlamajak found in the region of 300 Snipe openly for sale in Chiang Saen market which, she was informed, were captured at night, within the Nong Bing Khai Non-hunting area, using a lamp. Mr Boonpop, the Non-hunting Area chief has been informed about the lamping and mist-netting and has vowed to deal with these problems.
These worrying developments prove how valuable the conservation effort at Yonok is and that without the vigilance of Mick and Dowroong these activites would have proceeded unchecked.
What Mick and Dowroong, and the Yonok villagers, need, above all else, are paying visitors to help fund this conservation effort as well as volunteers to help with surveying: with this development it would appear a survey of local markets would be appropriate to discover the scale of bird trapping in the region.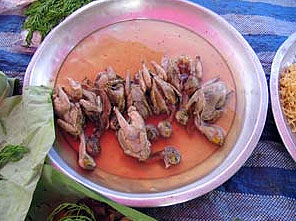 Stewed Snipe
(Photo by Dowroong Danlamajak)