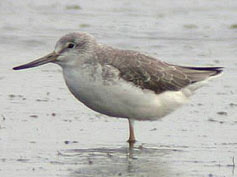 Nordmann's Greenshank
(Photo by Peter Ericsson)
Although not one of the most spectacular of the most wanted bird species of Thailand, Nordmann's Greenshank is certainly one of the most endangered with perhaps just a few hundred pairs remaining, earning it the conservation status of endangered. In Thailand it is a rare, but annual, visitor regularly being seen at Krabi River, Laem Pak Bia-Pak Thale and sometimes at Khok Kham: it has also been recorded at Bang Poo, Khao Sam Roi Yot and Ko Samui.
The number of sightings of Nordmann's Greenshank in Thailand has risen over the last few years, possibly as more birdwatchers have gained the skills to identify the species. It is also possible that larger numbers of the species are wintering in Thailand as wintering sites elsewhere are drained or reclaimed; Nordmann's Greenshank has suffered similarly to Spoon-billed Sandpiper from a loss of stopover sites on its migratory flyway.